As we sat in on our first few lessons of History Beyond the Classroom and Mike encouraged us to start considering what kind of organisation we might want to work with, I knew that I wanted to give back to a community whose history has been ignored and denied for so long in Australia. And so it was with great relief that the opportunity to work with AIME came to me totally as a surprise, arising from a meeting with a mutual friend about a university society partnership. I had heard about AIME before, with some of my fellow History Beyond the Classtorians being involved with AIME, and so it seemed like the perfect fit.
Combining my desire to give back to the local Indigenous community and working with young people, AIME's key focus is helping young First Nations students progress through their education with an increased sense of self worth and belonging. In their own words, AIME wants to create 'unlikely connections for a fairer world' by pairing university student mentors with First Nations students, to act as a support network as they make their way through school. Founded in 2004 by Jack Manning Bancroft, AIME was one of the first organisations to connect Indigenous and non-Indigenous young people, with a tangible impact on the educational outcome gap. As an Aboriginal man himself, Jack Manning Bancroft spoke to the ABC for Australian Story of his desire to go beyond the 'happy smile organisation' model, where a smiling picture is taken before the organisation leaves without any real impact. Over AIME's short but impressive history, they have mentored over 25,000 students with over 10,000 mentors, making them the largest ongoing movement of university volunteers in Australia so far. AIME's impact goes beyond the traditional school setting, breaking down barriers to employment, higher education and decision making positions through their network of resources, leaders and publications.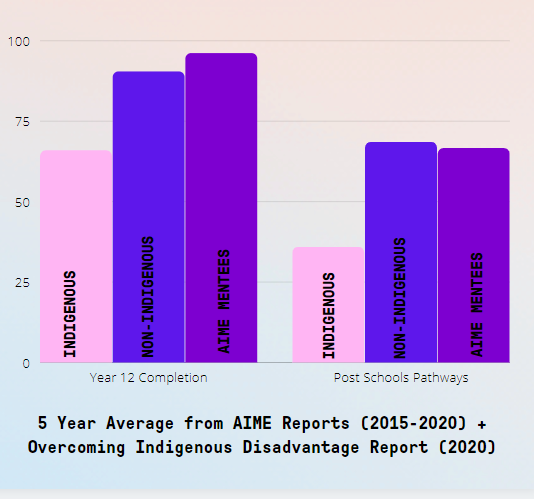 AIME's vision for a fairer Australia aligns closely with my personal mission, both as a historian and as a teacher. By working with AIME, I hope to bring light to the stories untold, the events ignored and the history neglected. By creating a project based on my work with AIME, I hope to ensure more people gain an understanding of the visceral challenges which young First Nations students face over the course of their education, and work to break down educational barriers. It would be a dream to create some teaching resources for use in a history classroom (and beyond!) that draws upon the work of AIME and their knowledgeable staff and mentors. Naturally at this stage without actually having done any volunteering I am a bit fuzzy with the details – form, content and style all allude me for now. However I am confident that whatever work I do will be meaningful in some way, and that being flexible with my approach will benefit both AIME and my final project. I guess you'll be finding out how it all goes soon enough. In the meantime, I'll be chipping away!