On a family holiday in 1955, Rosie Pidgeon stumbled across the floral linocut (pictured below) in an Alice Springs art gallery.[1] The footnote read that it was created by Amie (Amy) Kingston from her window in the Girl's Friendly Society (GFS) Hostel, 1933. Upon returning to Sydney, Rosie earnestly searched to obtain a copy, for 'this linocut was [her] only connection to the GFS period' – Arundel House was first called the GFS, then CENEF (Church of England National Emergency Fund) and now Arundel House. But after some time and numerous phone calls, it appeared that sadly there were no more original artworks.[2] Rosie told me this story when I asked her what she thought Arundel House's mission is.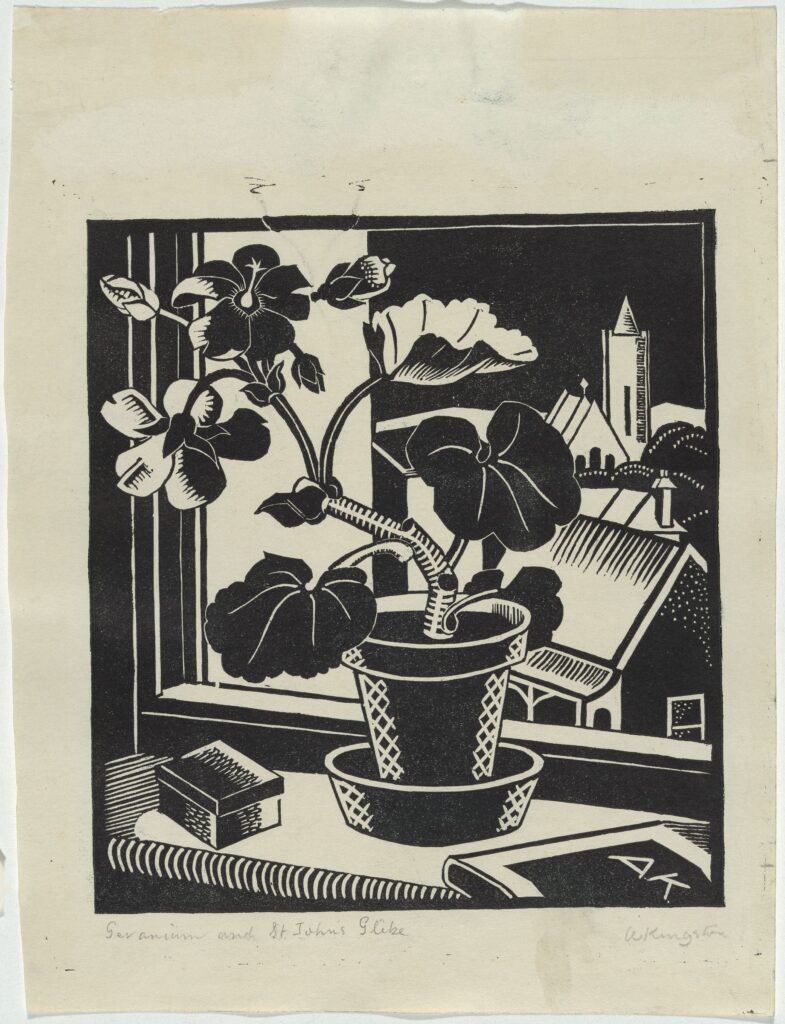 This Christian residential college has been a home to young women for almost 100 years. Rosie (now retired) worked as both the Chair of the Arundel House Council and an administrative staff member for the college. I myself am an Arundel alumnus and lived at the college from 2017-2018.
I interviewed Rosie with the intention of building up a timeline of Arundel, beginning in 1920, and felt she dodged my question about Arundel's mission; this story has nothing to do with mission and vision, I thought. Through some dusty archive digging and further conversations with alumni, however, I have come to realise that Rosie's response actually reveals the very heart of Arundel's mission: community.
A house becomes a Home:
For most girls that come to Arundel, they are only living under its roof for a very short time – on average, two to three years. Yet Rosie's response captures the type of community that Arundel builds; it spans geographical terrains and across time but remains a community nonetheless by the shared experience of living, growing and sharing faith at Arundel. When a girl joins the house, she is not only provided a bed and a meal but she is given a lifelong community. This is particularly significant as many of the girls that join the house come from rural homes and have thus become disconnected from their childhood communities.
Ageing well:
In 2021, Arundel will be celebrating its centenary. The current Director, Mel Hanger, is in the early stages of building an alumni database with the hope of rekindling and strengthening the community that Arundel is. My initial work with Mel, my discussions with alumni and my own personal experiences, have grown in me a deep curiosity to understand how and why the college has nurtured and grown young women across time. I am curious to know how shifts in broader society have influenced the way Arundel has thought about its mission: to what extent is Arundel's mission today different or perhaps more important than previously, and how can Arundel continue this mission into the future?
My project will focus on these questions of mission through the lenses of community and legacy. I will be engaging orally with alumni to capture their stories and questions on this topic, with the aim of collating their voices into a webpage on which Arundel can launch its centenary.
During my time at Arundel, I never really took much notice of the copy of Kingston's small, floral artwork displayed in the Front Lounge. Now this artwork has become, for me, a symbol of my part in something bigger. Time has seen significant change but the house has remained the constant that connects us girls. I hope that by joining Mel in Arundel's database project, and re-connecting alumni to each other and the house, that other alumni may experience this same feeling of re-seeing something with a new understanding and appreciation. I am excited to commemorate the numerous ways Arundel has nurtured and grown young women, and to celebrate the unique community we create.
---
[1] Amie (Amy) Kingston, Geranium and St John's, Glebe, Linoblock print on cream wove Japanese vellum paper, 1933, https://artsearch.nga.gov.au/detail.cfm?IRN=37610&PICTAUS=TRUE.
[2] Rosie Pidgeon, "Arundel House History," interview by Louisa Davidson, 12 October 2020.