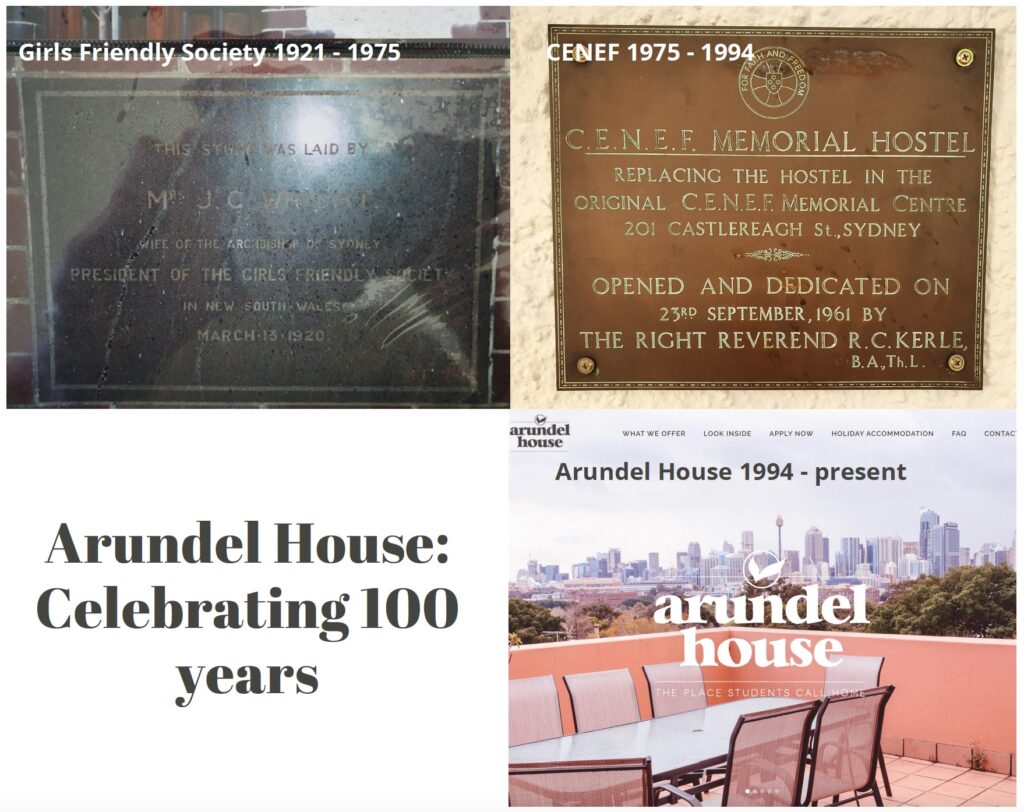 'Among the most powerful impulses behind the writing of local history has been the desire to know one's own 'place,' to uncover its hidden stories, and to gain a greater appreciation of what makes it distinctive. Much of this endeavour… is driven by the desire for an ethical and emotionally satisfying sense of belonging.'[1]
Place, stories, distinction and belonging – these are the foundation stones on which the Arundel House Alumni Database (AHAD) is being built. This semester, I was challenged by the Arundel House Director (Mel Hanger) to begin the process of building the AHAD. The aim of the database is to foster an alumni community to celebrate the centenary of Arundel House and to support its sustainability by demonstrating its importance and value to stakeholders through oral histories. Arundel House is currently experiencing lower resident numbers and declining public visibility. Re-engaging alumni into the functioning of the house, the growth of its residents, and the promotion of its purpose, will be a significant step in addressing these challenges.
Arundel House: 'our "Little House"'[2]
---
People are what make up Arundel House and so it is their stories that hold testimony to Arundel House's success and its value alongside other on-campus residential colleges of the University of Sydney. The AHAD is a unique way of capturing history as it not only seeks to collate Arundel House's history (through the alumni) but also recognises the utility of alumni in bringing Arundel House's history into the present and employing it in the daily function of the college.
The AHAD is a collection of alumni details (years and roles at Arundel House) and alumni voices (through surveys), bound together in a web-like structure that enables family members, cohorts and alumni of similar occupations/countries/interests to be linked. I have worked with the Director to build a 'flow' system, which alumni will be added to once they have become re-connected with Arundel House. There are currently three steps: initial contact, level of engagement, and story collection. The first two steps are largely administration based (organising alumni according to their preferred level of interaction with Arundel House), and the last step focuses on engaging with alumni stories to promote Arundel House and to strengthen Arundel House's community.
In her seminar on visual and oral communication in public history this semester, Emma Kluge posited that oral histories are important because they allow people to narrate history their own way. If history really is 'the narratives we write about the past', as Emma argued, then it is crucial that individual Arundel House alumni are the ones to write Arundel House's history.[3] Stories also help us to interpret the past, and alumni, as the embodiment of Arundel House's success and influence, play an important role in this process.
Building the AHAD required many conversations between the Director and I about how narratives are formed and who narratives are for. In many ways, this forethought will make the process of engaging with alumni more effective, as we are more aware of the importance and function of alumni narratives in promoting the larger Arundel House narrative. While the database itself is not a coherent narrative of Arundel House's history, it is tool that will enable Arundel House to collect, build and communicate its narrative. Thus, the process of establishing the AHAD has involved an investigation into the Arundel House community and how its ongoing reinforcement is crucial for the long-term prosperity of the college.
"I found Arundel a welcoming and dear home."[4]
Alumni voices are a crucial aspect of the AHAD establishment process. 'Once you have achieved a sense of audience, you will know what kind of history you need to write'.[5] This statement has resonated deeply with me, as it validates the work I have been doing with Arundel House; it is valuable even though I was not working on the project I initially thought. While I have experienced several changes in the way I have carried out my project, due to various delays and differing priorities between the parties involved in this project, keeping my focus on the alumni (my audience) has meant that the direction of my project has actually kept more in line with the priorities and desires of the alumni themselves. In truth, I think it is more important that I spent this time getting to know my audience, to ensure that I both create a resource that is valuable for them and that I maintain a respectful and constructive relationship with them.
The next step for this project, is to actively pursue alumni engagement. I have sent surveys out to a number of alumni (the majority of whom are girls that I lived with at Arundel House) asking them for their thoughts and reflections on three main ideas: community, mission and vision. The aim is to identify if there are weaknesses in Arundel House's community and mission as it currently stands; their voices will provide a gauge of how connected alumni feel to the house and to other alumni. At this stage, I have only had one respondent but, in time, these voices will be an invaluable aspect in shaping the database. In other words, I am currently at the beginning of a much larger and more long-term project.
For privacy reasons, the entire database itself will not be accessible to the alumni. Rather, it is the alumni's level of involvement in the college and the eventual sharing of their stories (through the Arundel House website, on social media and in person) that will be the visible evidence of Arundel House's community.
The centenary was finally launched on 18 December 2020 via Facebook, calling alumni to begin the process of re-connecting with the college, beginning with a simple registration form.
[1] Frank Bongiorno and Erik Eklund, 'The Problem of Belonging: Contested Country in Australian Local History', New Scholar: An International Journal of Humanities, Creative Arts and Social Sciences 3, no. 1 (2014): 39–40.
[2] CENEF Council, CENEF Minutes, vol. 2, 2 vols (Forest Lodge, Sydney: CENEF, 1993).
[3] Emma Kluge, 'Oral Histories' (University Lecture, Zoom, 29 October 2020).
[4] Lara Rayner, Arundel House Alumni Survey, Survey, 12 December 2020.
[5] Ann Cuthroys and Ann McGrath, 'Who Is Your History For?', in How to Write History That People Want to Read (Sydney, Australia: University of New South Wales, 2009), 25.