History of University Life II Sydney Research Seminar in Higher Education
You can now listen to and watch a recording of the full session above, here.
On Wednesday 24 June 2020, History of University Life* held its first live online seminar with an audience of 90 people. Professors Ariadne Vromen (ANU) and Susan Goodwin (University of Sydney) joined a panel with University Historian Julia Horne to discuss the importance of public investment in our public universities.
Just days before, the Commonwealth Minister of Education Dan Tehan announced far-reaching changes to HECS fees and university funding for teaching. The announcement prompted the panel to focus even more sharply on what exactly needs to be reformed and why.
Ariadne Vromen argued that we owe young people citizenship, employment and economic security. Ariadne explained that "the individual and social costs of young people's exclusion from employment and education are profound and long-lasting". We need as a nation, Ariadne said, to acknowledge that responsibility to create jobs lies with governments, industry and businesses. The government's idea of "job ready" graduates subverts that greater responsibility.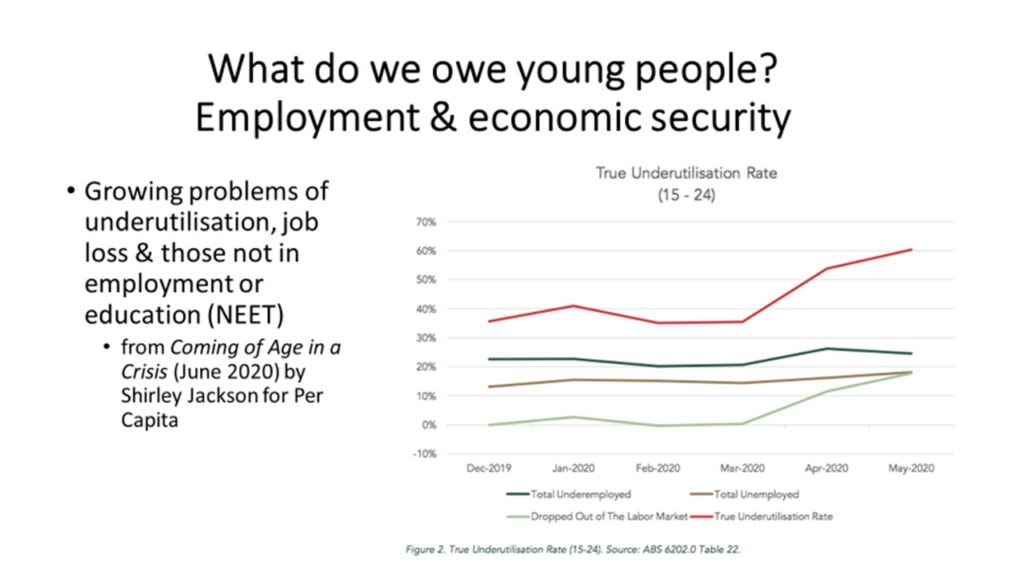 Susan Goodwin unveiled UniKeeper, the social democratic plan to support public higher education. This plan has 3 planks: more affordable public higher education places; universal income support payments for higher education students and a proper plan to fund the public sector higher education teaching and research workforce.
Only 1 out of 3 university students receive any form of student income support and 82% of university students depend on paid employment to support them while they study.
This last figure is not surprising since Australia's mass higher education is now one of the largest systems in the world (on the basis of population parity). Susan explained how "in Australia, young people's citizenship is denied and eroded by enforced financial dependency on families."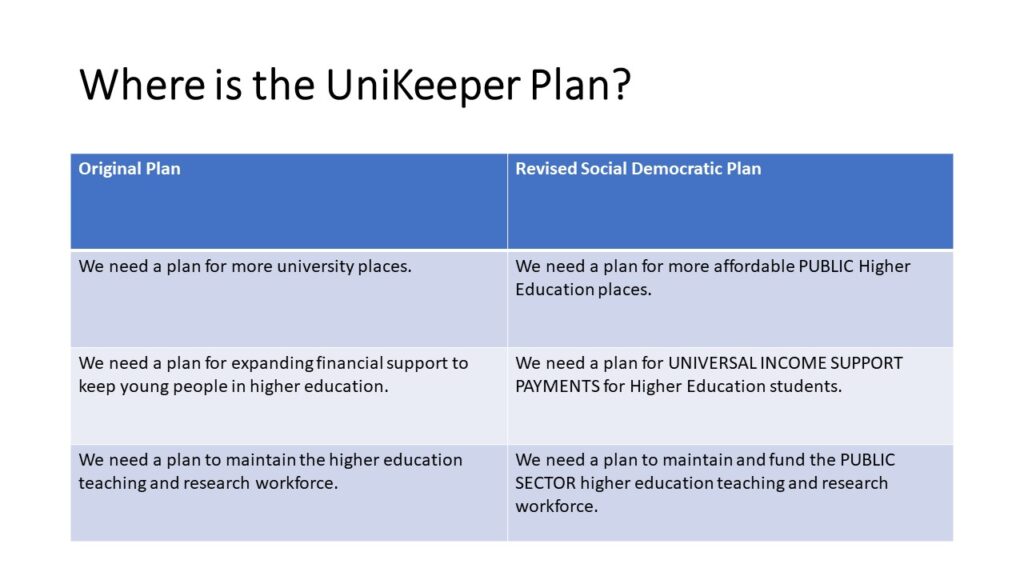 The questions flowed thick and fast. What do young people think? Should student income support be means-tested? How is higher education a public good? Who should lead the discussion on how to reshape higher education? Is 'job ready' a useful term in the discussion of higher education? These and more questions will be explored in the rest of this series. See SOPHI Events for further details.
* History of University Life II Sydney Research Seminar in Higher Education. History of University Life began in 2008 as a joint forum between the University of Sydney and St Paul's college to discuss the history and role of universities in Australian life.
University Education as a Pathway to Employment was held as an online seminar on Wednesday 24 June 2020. Follow the link above for further details about this event including information on the panellists and to sign up for future webinars in this series.