I have chosen to work with the Romsey & Lancefield Districts Historical Society for my major project. The Society is located in Lancefield, Victoria (approximately one hour north of Melbourne CBD), in the Old Lancefield Courthouse. They formed in 1979 and aim to preserve documents relating to the Old Shire of Romsey. Many items in their collections were obtained through donations from local residents. These items include things such as sporting trophies and photographs. The Society is a community organisation which relies primarily on grants and donations as well as a small group of volunteers to continue their work.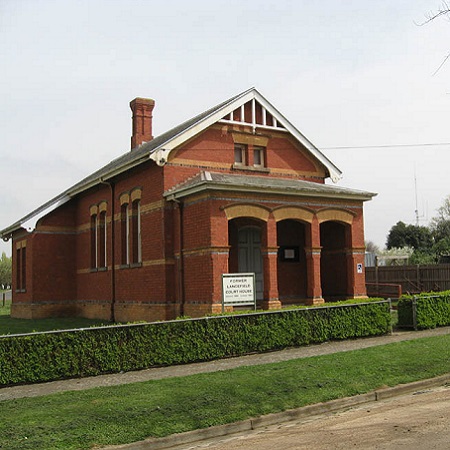 The Old Romsey Shire existed from 1862 to 1995 and included the towns of Benloch, Bolinda, Cherokee, Chintin, Clarkefield, Darraweit Guim, Kerrie, Lancefield, Monegeetta, Mt William, Riddells Creek, Rochford, Romsey, Springfield and Tantarraboo. These towns are now part of the Macedon Ranges Shire. The area has a rich history that goes back before colonial settlement. This is seen in the Aboriginal Greenstone Axe Quarry at Mt William and an archeological Mega Fauna site located in an old swamp in Lancefield.
The Society currently keeps collections of family trees, manuscripts, town histories, church histories and club histories. They also hold a cemetery index for Lancefield cemetery and newspaper archives for local newspapers, which they are working to digitalise. Many of these collections are not available online and must be viewed at the Old Lancefield Courthouse. The Society also helps with research and have published various books on local history.
I have lived in Romsey for years so was interested in working with our local historical society to find out more about the work they do and the history of the area, while giving back to the community. For my major project I will be cataloguing the Society's collection of historic maps. Their collection mainly consists of maps of the former Shire of Romsey but also includes some other areas in Victoria. I look forward to working with the Romsey & Lancefield Districts Historical Society and getting to know more about them and their work.