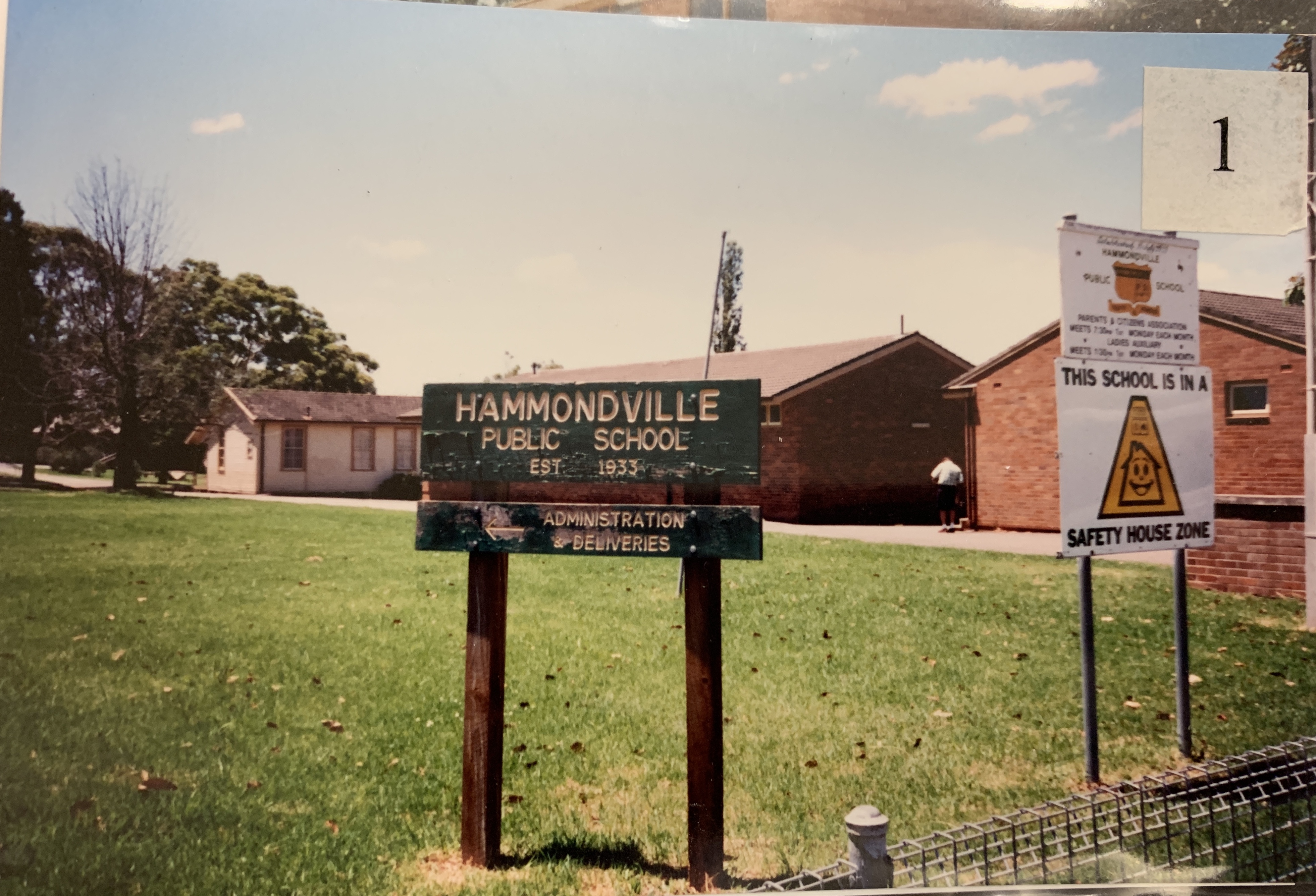 "Where's that?" is the question I get every time I tell someone where I live and grew up. It's a quiet small town that is situated 31 km southwest of Sydney and not many people have heard of Hammondville or know about its rich history.
The reason for selecting Hammondville Public School for my project is because of the rich history it has that isn't known to the students or the community. On my first day going through the schools archives I was shocked to see the amount of photos, original documents and information there is about the school from the time it was opened in 1933. I believe that it's important for the children that attend the school to know about the history of the school. When speaking to the librarian and deputy principle, I asked what they would like me to do and they both agreed a interactive website for the students would be great. 
Let's start with the history of Hammondville.
When going through the archives, I found a letter titled 'Aboriginal Tribe of Liverpool' dated back to 1980, noting "Daruk, Gandangara and Tharawal are tribal names which are not commemorated in any local landmark, even though it is only 170 years since these aboriginal tribes possessed the areas which are now part of Liverpool. Each tribe had its own definite area and was a separate group, vigilantly protecting its own lands from trespass by other tribes. When white settlers came to Liverpool and the Cowpastures, ignorant of and disregarding tribal boundaries, conflict broke out. Six years after Liverpool was founded, the soldiers at the barracks were instructed to protect the settlers from attacks by "hostile natives'." When R.B.S Hammond visited the area now known as Hammondville, it was empty land and did not have indigenous people there, it was documented that they were run out by white settlers in the late 19th century.
Hammondville was born out of the depression through the vision and persistence of one man: Canon Robert Brodribb Stewart Hammond (1870-1946). On the 12th February 1931, he called a meeting at St Barnabas Church (located on Broadway, Sydney) for married men who wished to apply for the kind of accommodation which he proposed to provide. The Church filled to over flowing and as a result 800 applications were received from people who asked to be allowed to participate in the project. Thousands were left homeless and were destitute during The Great War and the Depression.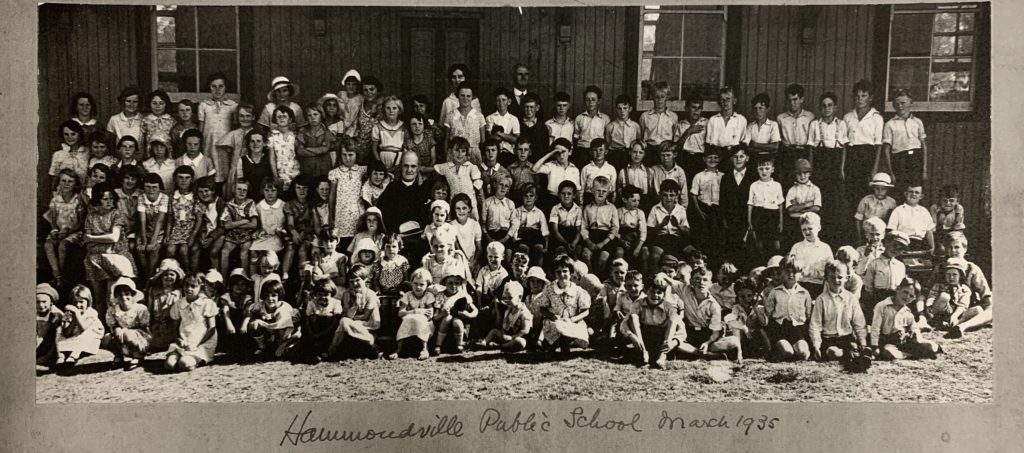 The condition for a family's entry to Hammondville required that they be  married, have at least three young children and that the parents were unemployed and evicted or under notice of eviction from their present residence. The homes were not going to be a gift: they had to be paid for on a rent-purchase basis "The project was not intended as a charity, but as an opportunity for people to better themselves by their own hard work." Hammondville was officially opened by the New South Wales Governor Sir Phillips Games on Sunday 25th November 1932. Canon R.B.S Hammond offered land to the Department of Education for a school.
On May 30th, 1933, the school was officially named Hammondville School, and the building was completed on June 1933. The range of suburbs from which the families came, is surprising, as many people are under the impression that most came from very poor inner suburbs. By August 15th, there were 53 pupils attending the school.
With so many children, two teachers and one class room, turns were taken to use the building. When one teacher was indoors, the other was outdoors. During the Depression, the teachers' salary was reduced and for one fortnight there was no salary at all. Teaching conditions were extremely difficult, particularly at Hammondville.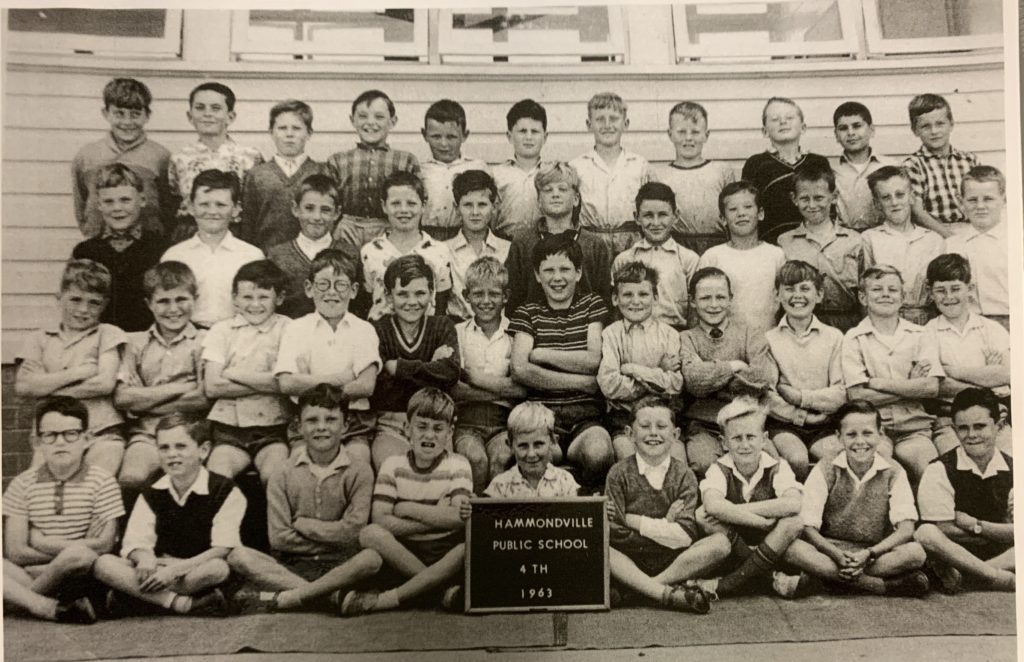 Most school equipment had to be provided by pupils. Understandably there was very little equipment. On one occasion a little girl (Arline Cochran, Now Mrs McNab from Batehaven) told Miss Beard that she was going to pull her tooth out on Saturday so the tooth fairy would give her a penny to buy a new book. As Miss Beard (one of the teachers at the school) recorded in her diary "it would be funny if she hadn't been so terribly in earnest."
In 1951 more than 157 British children enrolled at the school and British children (mainly English) continued arriving until the early 1970s. The arrival at the school of the first "brits" proved delightful entertainment for the "Hammo Aussies." 
In 1962, British entertainer John Paul Young enrolled in Hammondville Public. He was part of the group of British migrants that settled in Hammondville. Young attended the school and was enrolled in 6th grade. He would entertain the class with his piano accordion.  John Hatton, former politician (1973-1995), and Jim Masterton of Masterton Homes also attended Hammondville Public School.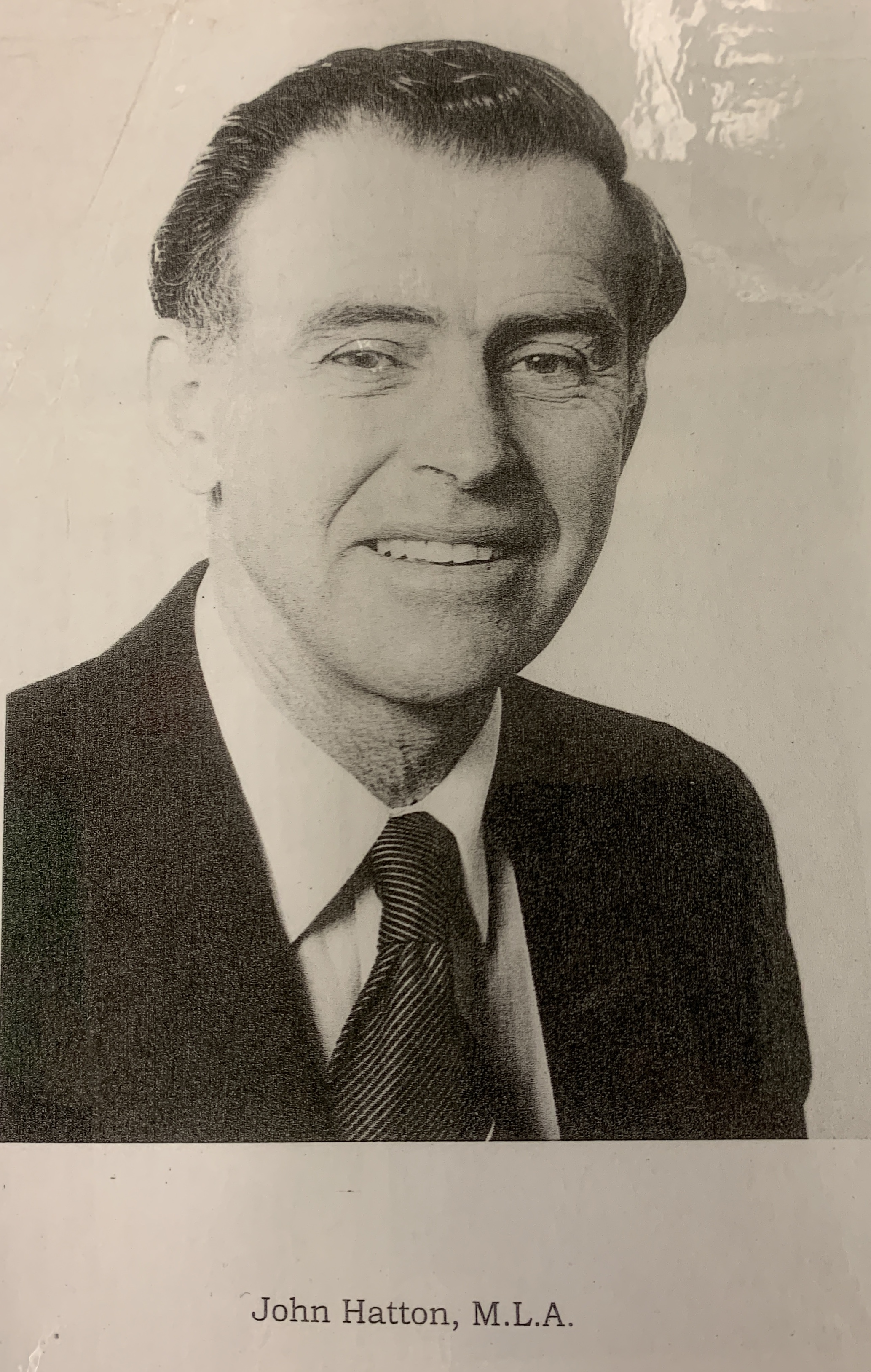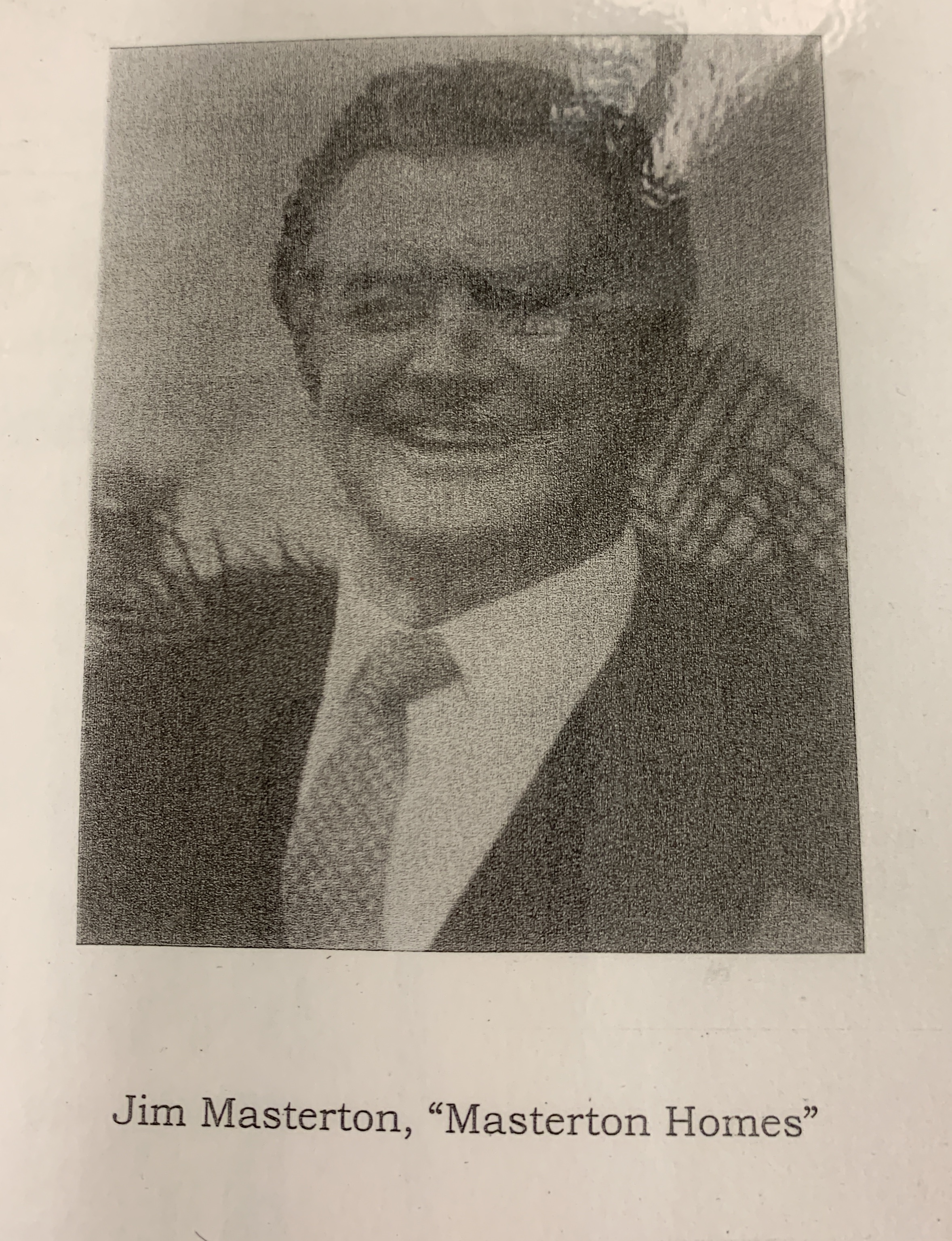 There were photos of drawings that children had made of their school in 1983 and how the school would look like in 2033, showing flying cars, spaceships and rockets. I spoke to one of the teachers who has been at Hammondville since the early 90s and said that children would draw spaceships and futuristic things when thinking about what it would be in the 2033 (image shown below). The school also has a time capsule located next to the library that will be opened in the year 2033 to commemorate the school's 100th year anniversary.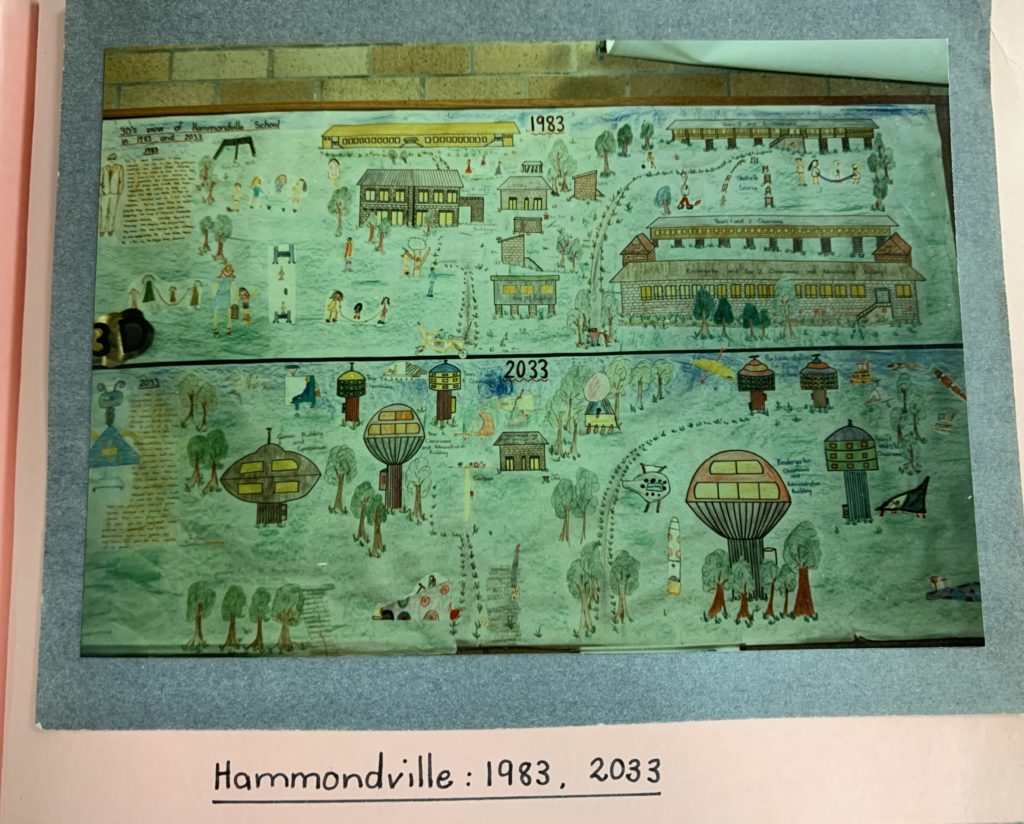 Quinn Shwan