Website: Hammondville Public School Major Project
When I began my project, I didn't expect to know so much–not just about the school, but Hammondville itself and the rich history that it has. I wasn't aware I was going to have so many resources to work with and I was truly surprised when I saw the amount of information and primary sources kept.
The reason I picked Hammondville Public School is because it's a great school where all of my siblings have attended, and I really wanted to know more about the school. Once I started to go through the archives, I knew that I made a great choice by choosing Hammondville. Picking a local organisation for this project was rewarding. I was able to connect with people in the community who attended the school years ago who had great stories.  As a past student who did not know anything about the history, I was interested in knowing about it, and doing something significant. I have lived in Hammondville since 1997 when I was 3 years old. There is a big sense of community in Hammondville where everyone knows everyone and you are friends with your neighbours.
I believe that doing this project with Hammondville Public School is an achievement in itself. The opportunity to have gone through years of history which were stored in multiple boxes and discover new things about the school that I didn't know, nor did other people. Going through the archives there were student records, images of the school before it was made, images of students, and student work and year books. One of the greatest achievement was my first blog post on History Matters which had a huge reach. Many people read it and left comments stating that they were themselves past students. 
It's important to have done this project for Hammondville Public School as it will allow current students and past students to have access to the school's history. Times have changed, and technology is the main source for research. I hope that when searching "History of Hammondville," my site will appear. This website will benefit the school, as they can use it as an education tool to teach students about the history of Hammondville.
The aim for the project was to create a website about the History of Hammondville Public School including an excerpt of the history, images, student works, year books, letters from past students, and more. The website is an easy way for students both past and present to read about the school. There were different formats, and I explored with creating something online for the students to interact with. I've chosen to use WIX to create my website, as I tried to use Prezi and other platforms but they didn't work for me.
When you first go on the site you are welcomed with images of Hammondville Public School with their first students and Canon Hammondville. Scrolling through the home page you will see images that will direct you to pages with the history of Hammondville and the school, images, newspaper articles, etc. It's easy to use the site and it will be easy for students to explore the site and read about the history of Hammondville itself and the school.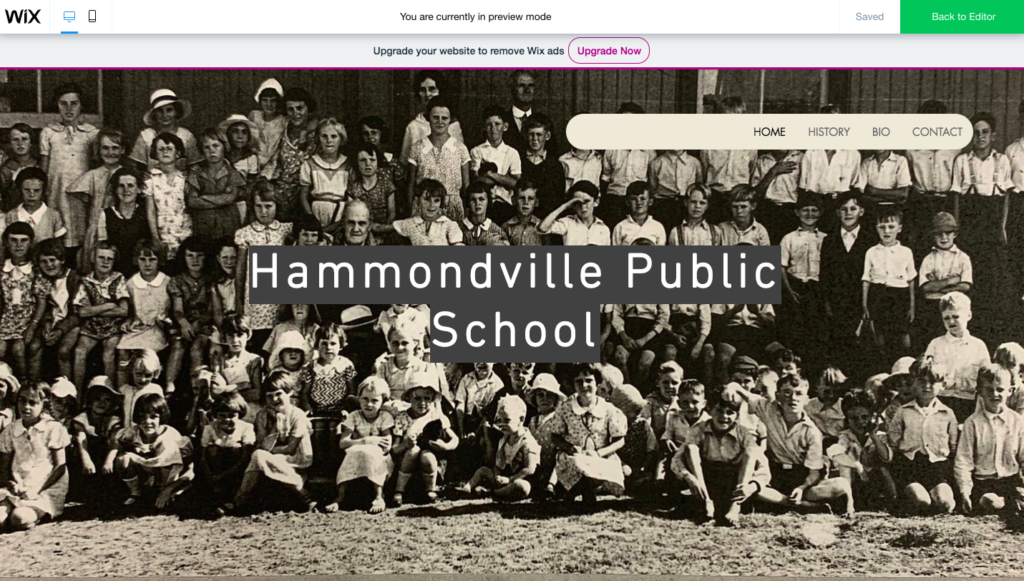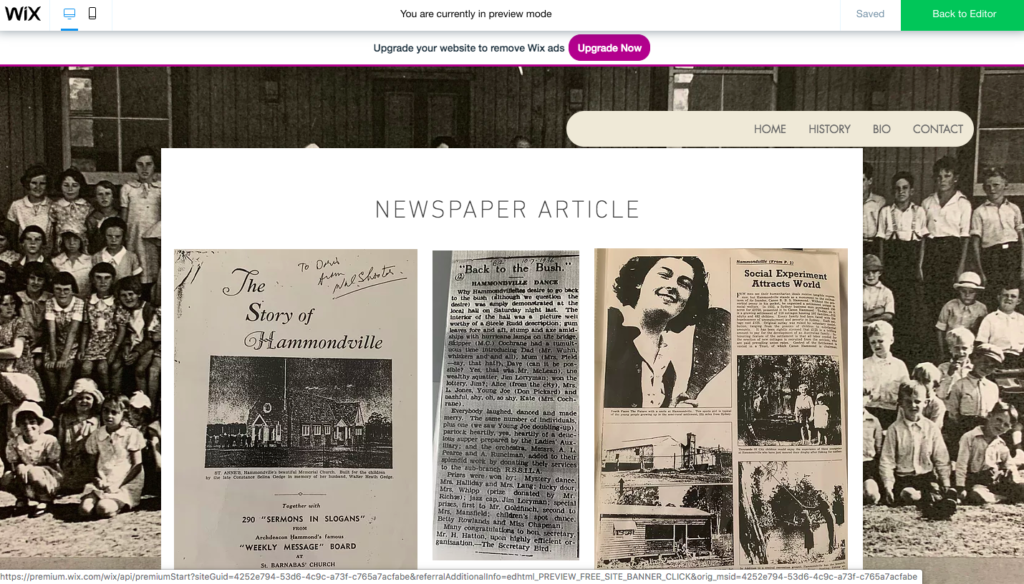 There were a few challenges that were brought up, especially when picking what platform to create the website with, as there are so many. I tried to play around with a couple of sites to see which was easier for me to use, and also wasn't complicated for students to use. 
The last couple of weeks have been an experience which has opened my eyes to what Hammondville was, and the great accomplishment the school has achieved in the last 86 years. The rich history of the school has not been acknowledged by past or present students. 
My goal for this project is to complete it before school starts in 2020. I am presenting merely a draft of the website which will contain all of the information about the area and school. I will continue researching and finding more information and images.