Many congratulations to our most recent recipients of Faculty Teaching Excellence Awards – Miranda Johnson and Hollie Pich
Dr. Miranda Johnson received a Teaching Excellence Award primarily for her outstanding work in designing and delivering a truly innovative MA unit in Museum and Heritage Studies, HSTY 6987: Presenting the Past, and the resulting public history project called "The Pitcairn Project."
One of her nominees wrote: "Dr. Johnson has worked assiduously in creating an innovative and intellectually rigorous learning environment for students that has developed and enriched skills in historical investigation, heritage preservation, IT, collaboration, public history, and cultural competency. Students have learned to negotiate with each other, and negotiate many and often difficult ethical hurdles involved with heritage preservation and the public presentation of history. Along the way, students have posted thoughtful public blogposts about their findings, created helpful marking criteria for their own work, and written reflections about their learning experiences in the unit. They have also met experts in heritage preservation, IT development, and some of the artists and historians involved in Tapa making and its history. Having read the blogposts and sat in on some of the workshops as a curious observer, I've been impressed with just how engaged and enthusiastic students were. From my own personal experience of co-teaching with Dr. Johnson, I know her to be a creative, caring, and engaged teacher who works tirelessly to create exceptional learning environments. She is a brilliant teacher who is not only committed to research-led teaching, but also to an engaged and inclusive pedagogy that brings out the absolute best in students from a range of backgrounds and abilities. Her work in this particular unit will serve as an exemplary model of project-based learning for the Department and the Faculty as we move to transform the undergraduate curriculum. This is all down to Dr. Johnson's careful planning, her deep immersion in the literature of a wide array of fields necessary to pull this off, her collaborative mindset, and her critical commitment to producing intellectually rigorous yet accessible public history. Dr. Johnson is simply an exceptional teacher and deserves to be recognized for her extraordinary efforts."
You can read about some of the work Miranda did last semester with her class on the Pitcairn Project here.
And some of her student blogposts can be found here.
Many congratulations as well to Hollie Pich for receiving a prestigious Dean's Citation for Excellence in Tutorials with Distinction for her work in HSTY 2671: Law and Order in America and also HSTY 2609: African American History and Culture.
One of Hollie's support letters noted that "Hollie is the most conscientious tutor with whom I have worked in the six semesters I have taught at the University of Sydney. What struck me most about Hollie was her interest in pedagogy and her endeavours to become the most effective teacher she could be. She solicited feedback from the students in her tutorials and from me during the semester. She also asked me to observe one of her tutorials, and she in turn observed one of my tutorials, after which we met to discuss our respective observations and teaching aims. In observing Hollie's tutorial and in my interactions with her throughout Semester 1 of 2017, I got a sense of her extraordinary dedication to students. She had a pleasant rapport with her students, facilitated a substantive and invigorating discussion of tutorial readings, achieved wide participation, and orchestrated a well-planned tutorial featuring a combination of group work and tutorial-wide discussion. It was clear that Hollie earnestly cared about her students, treated them with respect, and was approachable while maintaining her professional authority. As one student wrote in the USS survey of HSTY2609, "Hollie's a great tutor. It's a pleasure to go to [her class] every week."
The Faculty of Arts and Social Sciences Teaching Excellence Awards program is designed to recognize and reward the teaching excellence of staff at all career levels, to encourage teachers to engage in reflective teaching practices, and to promote and support the development of high quality and innovative teaching.
Recipients have demonstrated an evidence informed approach to critical reflection on teaching and learning, evaluation of their teaching practice, engagement with higher educational research, and a focus on improving student learning.
Awards were presented by Professor Annamarie Jagose on Monday, 6 November 2016 at MacLaurin Hall. Unfortunately, Hollie Pich was in the US on a research trip and unable to pick up her award in person.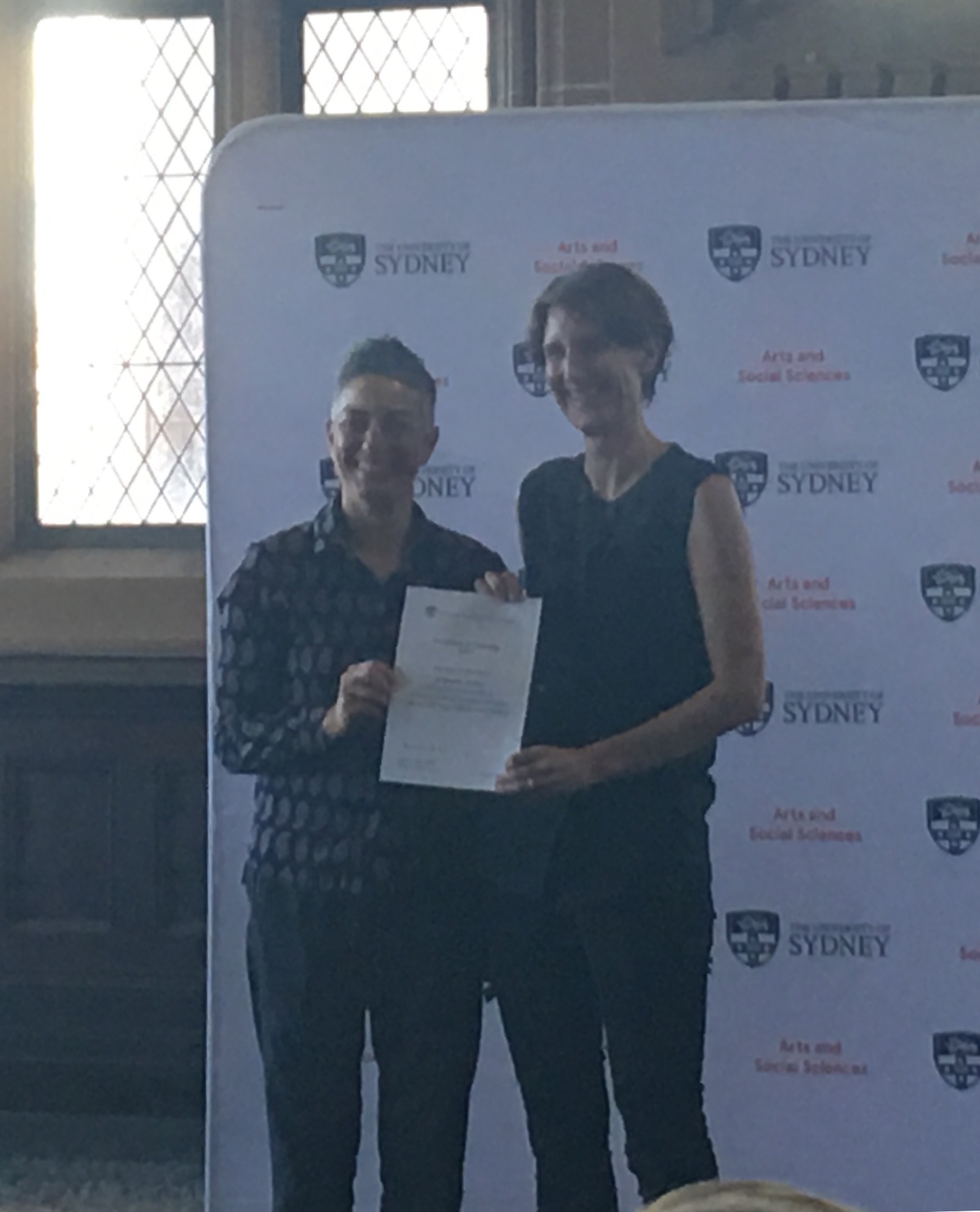 A few of the award recipients, including Miranda, were invited to give a brief presentation on how they were able to engage with and respond to evidence of effective student learning to successfully achieve excellence in teaching.


Please join us in congratulating Miranda and Hollie and the other recipients on their Teaching Excellence Awards, in the company of their family and friends.
The 2017 Teaching Awards recipient are:
Teaching Excellence Award
Dr Gareth Bryant (SSPS)
A/Professor Damien Cahill (SSPS)
Dr Mark de Vitis (SLAM)
Dr Amanda Elliot (SSPS)
Dr Marianne Fenech (SSESW)
Dr Huw Griffiths (SLAM)
A/Professor Pablo Guillen (Economics)
Dr Miranda Johnson (SOPHI)
A/Professor David Kim (Economics)
Dr Guy Redden (SOPHI)
Dr Brigid Rooney (SLAM)
Dr Jen Scott Curwood (SSESW)
Dr Aim Sinpeng (SSPS)
Professor Rodney Smith (SSPS)
Dr Louise Sutherland (SSESW)
Dr David Ubilava (Economics)
Dean's Citation for Excellence in Tutorials with Distinction
Georgia Carr (SLAM)
James Goulding (SSESW)
Hollie Pich (SOPHI)
Tim Smartt (SOPHI)
Alix Thoeming (SOPHI)
Dean's Citation for Excellence in Tutorials
Ella Collins-White (SLAM)
Alex Cubis (SLAM)
Karla Elias (SLAM)
Danica Jenkins (SLC)
Michael Leadbetter (SLC)
James Monaghan (SOPHI)
Wyatt Moss-Wellington (SLAM)
Cressida Rigney (SLAM)
Angela Rose (SSESW)
Margaret Van Heekeren (SLAM)
Peter Wasson (SSESW)