In so had proclaimed the New South Wales Government Gazette newspaper publication on Tuesday 30th August 1881, in response to a widespread deadly outbreak of smallpox only months earlier. The Coast Hospital, as it then became known, had formally opened in Sydney's eastern suburbs area two years later – right on the ocean's doorstep. Its sole purpose: as the NSW colony's first infectious disease hospital, to operate in dealing strictly with the smallpox strain and other infectious diseases in an urban quarantined-based area.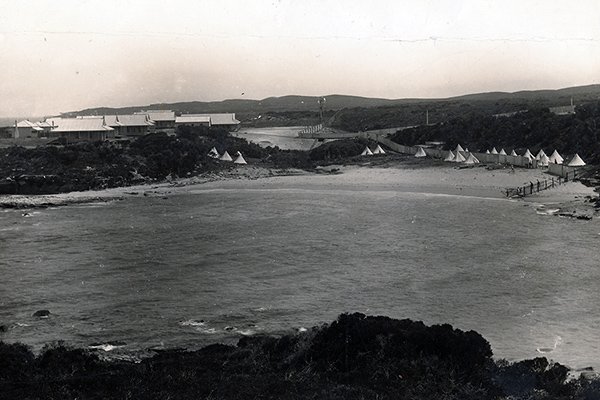 For more than century later, the hospital – later renamed as the Prince Henry Hospital – continued to service world-class and pioneering medical healthcare, such as: utilising a state-of-the-art Operating Table engineered by the Zoeller & Ross firm in 1890; the Bubonic Plague of 1900; the construction of army wards in 1917 for First World War military personnel; the 1918 Spanish Influenza; the establishment of the first virus diagnostic laboratory in NSW in 1951 – which led to the discovery of Coxsackie viruses on Australia's northern-eastern coast; pioneering the first kidney transplant operation in NSW in 1965; and opening in 1987 of Cardiac Catheterization Centre, Lithotriptor Centre (eliminating kidney stones with ultra sound waves) and AIDS unit.
The Prince Henry Hospital formally closed down in 2003, and thus, is now an established museum dedicated to the history of the hospital, staff, and patients.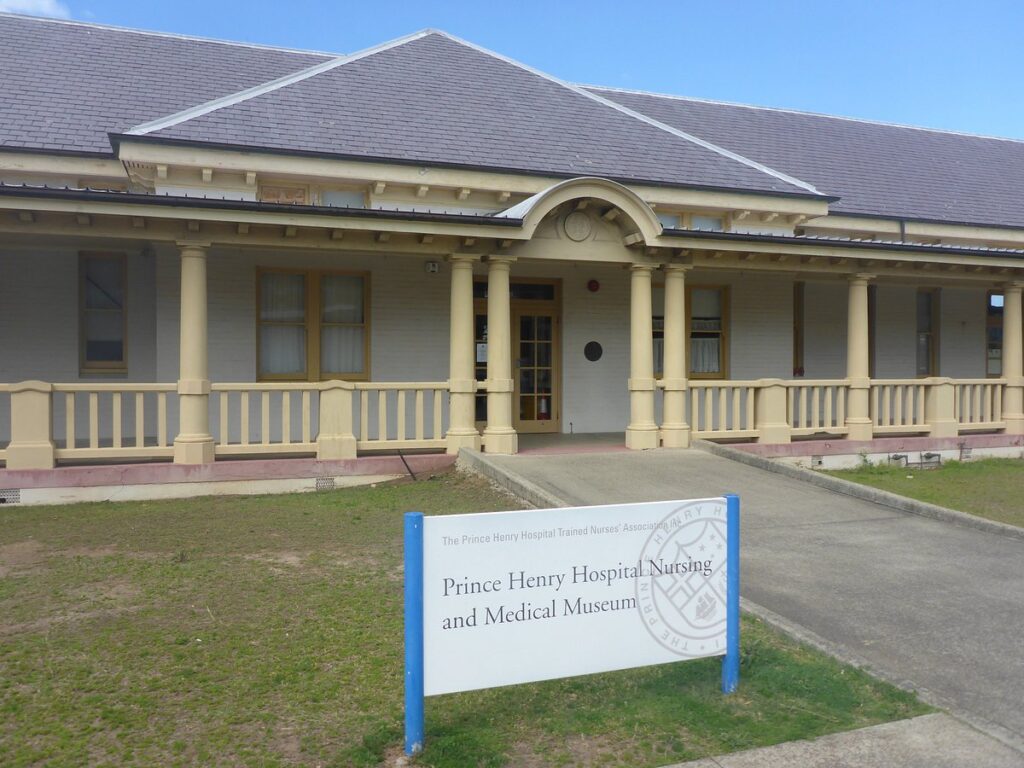 Just wanted to be there…
'Just wanted to be there.'

The reason given by Sister Alva Kelway Storrie for wanting to join the Australian Army Nursing Service (AANS) in World War II
My first day of volunteer work for the museum was to be rather exciting – but nothing I thought it seemed that was to be overall significant; I was instructed first to read over deciphered transcripts of old hospital correspondence, written at the turn of the century, by the hospital Matron to the Medical Supervisor. "Nurse A is now officially employed with us; so far, her conduct is good." "Nurse B has resigned her position due to the recent death of a friend." "Nurse C is unable to attend to work due to contracting typhoid fever; she will be on sick leave for at least two weeks." Later, I was tasked to itemise (very) old nursing registration records and other credentials into an elaborate filing system. When I finally came to the very last two individual records, my fascination skyrocketed in wondrous illumination! Amongst the registration booklet for Sister Noreen C. O'Halloran was accompanied with a black and white photograph of her (in old age) and a letter. Upon opening the letter, I noted that it was dated 3rd June 1947 – and had been sent by the War Office in London acknowledging her national service. The last registration record was far more galvanising – the nurse (whom unfortunately I did not record her name) had far more documentation of her war service, including hand-written letters and numerous small photographs on location.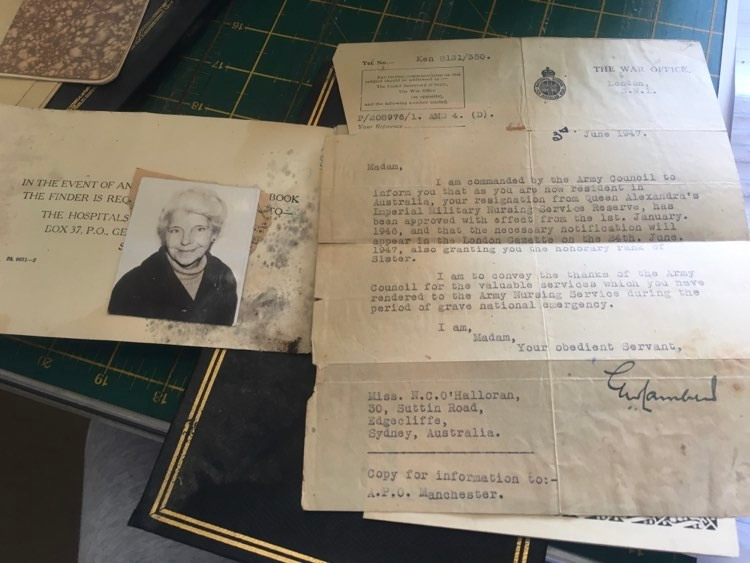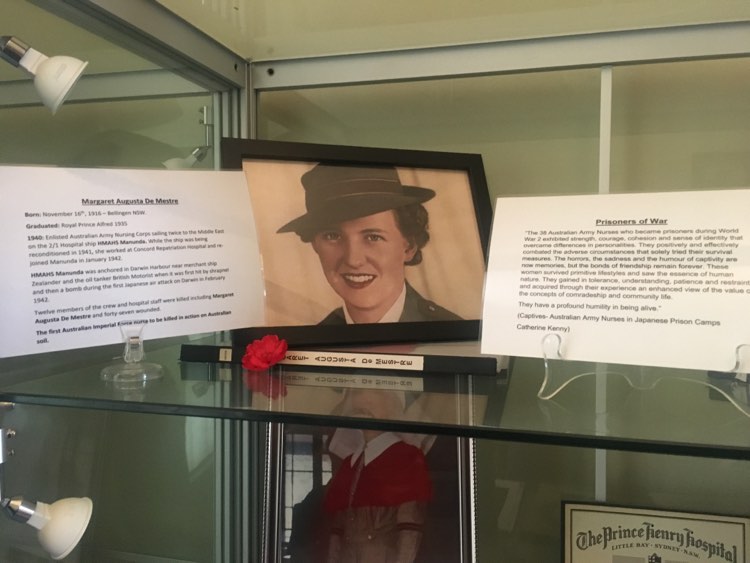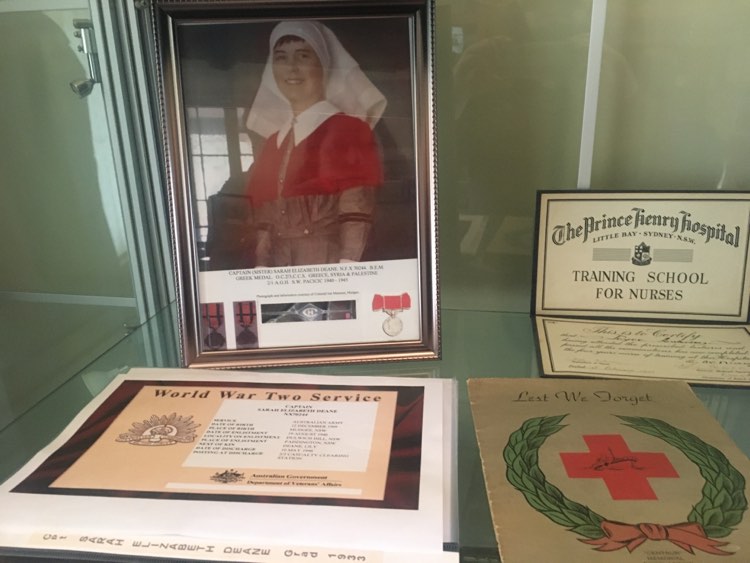 It then dawned on me, plainly, that the best thing I can offer to the Prince Henry Hospital Museum is to create a memorial – most likely an additional page to their own website, filled with profile texts, digitised photographs/documents (and perhaps a short film) – in tribute to the valiant nurses of the former hospital who gave their expertise, service and lives in times of war…