This morning, a bunch of University of Sydney History Undergrad students huddled out the front of Granville Boys and Miller Tech. high schools in western Sydney. We had braved the cold morning trip from the city, coffee in tow, in order to assist the year 11 students with their major projects for ancient history.
I led the group at Granville Boys high with the help of Lachlan Anderson, our GBHS volunteer leader. Upon meeting up with the students in their ancient history classroom, they did not look happy to be at school. Ramadan has just finished, and many of their peers were at home feasting and celebrating. The glum faces of the boys showed us they'd rather be celebrating than working on history projects. Eventually though, we got them talking. The students were excited to share their ideas with the mentors. Though they did need a bit of encouragement at first though, to feel confident in opening up about their thoughts and work. Subjects ranged from the Terracotta warriors to the Vikings, and by the first hour in, most students seemed to be confidently researching away and talking openly with their mentor.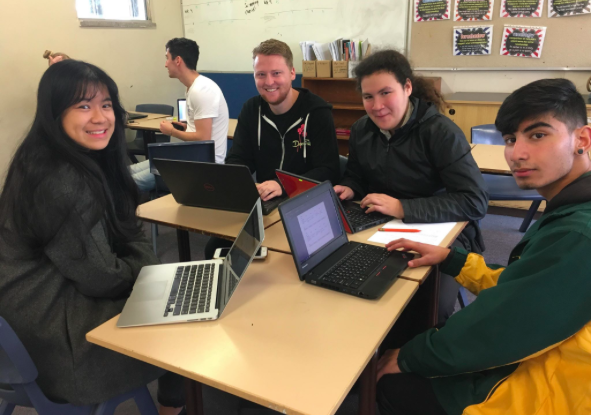 One thing I've noticed through working with the students of GHBS and Miller over the past two years is that while there is an initial lack of confidence from the students of their academic ideas, once they feel interested and comfortable with their mentor the brightness of their ideas lights up the classroom, library or campus they're working in.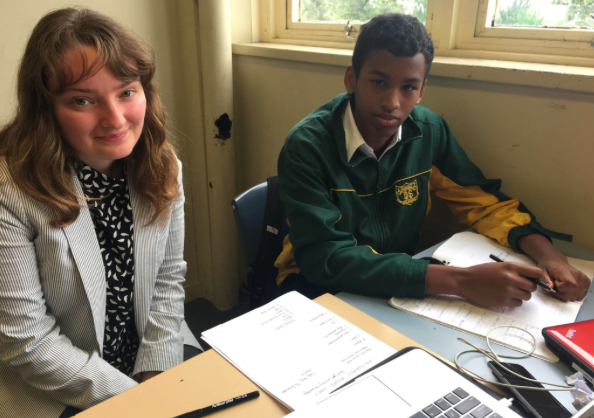 After two hours of working, us mentors were lucky enough to be given a guided tour of Granville Boys High school! And what a fantastic school it is. With beautiful outdoor murals, fantastic hospitality facilities, and plenty of room to run around. The school treated the volunteers to a celebratory morning tea for the end of ramadan, as well as lunch.
Many of the mentors reflected that visiting GBHS was a fantastic cultural education for them to experience life in Granville Boys High, as it is a very diverse place with a predominant religious make up of Islamic students. For example, one class had only 1 out of 22 students present due to everyone being at home celebrating the end of ramadan!
Mike Mcdonnell took another group of volunteers out to Miller Technology high school on this day as well.
We look forward to welcoming both groups of students back to our side of the city for our next campus day on June 28.