For my history project, I am working with Constitution Education Fund Australia (CEFA), which is a not-for-profit organisation that aims to increase public understanding and awareness of the constitutional framework of Australia.  More specifically, the focus of CEFA is to create teaching and learning resources to educate students about processes of government, the history of the Constitution and its contemporary relevance.
One of the most notable achievements of CEFA was the establishment of the Australian Constitution Centre through its collaboration with the High Court of Australia. Other successful programs include annual Governor-General Prize Essay Competition, CEFA's Constitutional Forum and school parliament program. The work of CEFA interests me because I realised that many pre-service history teachers, including myself, have limited knowledge about the Australian Constitution and how to teach it. Yet, knowledge about the Constitution is extremely important to students in empowering them to get involved in civics activities in the communities and becoming informed and active citizens.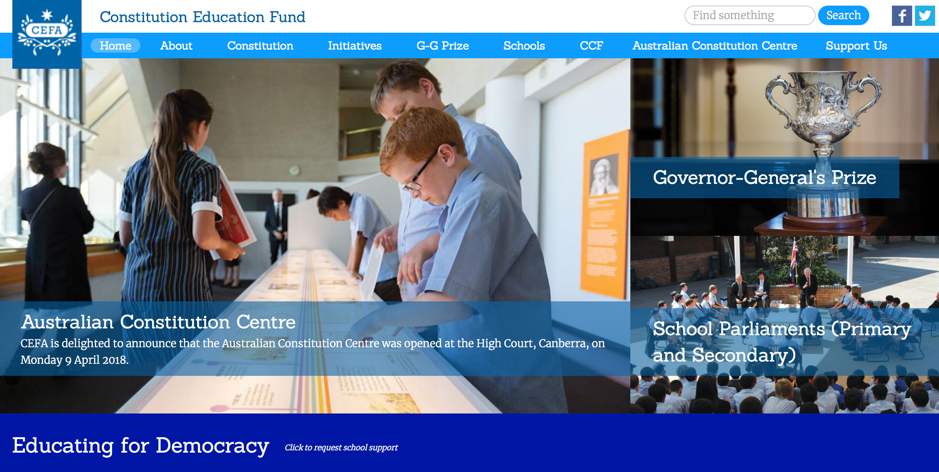 During my first meeting with the research director and chief executive officer of CEFA, I was informed that the primary goal of CEFA at the current stage is to create fifteen interactive lessons about the Australian Constitution and its six underlying principles. The main challenge that CEFA is faced with is selecting the most relevant and core content that students need to learn about in such a dense topic, and then creating resources and lessons around it that are meaningful and interactive. After knowing my background as a third-year history student and also a pre-service history teacher who is interested in technology integration in history, they expressed their interests in having me help CEFA create an educational video for Year 9 students about the history of the Australian Constitution, its contemporary relevance, and the operation of Australia's federal system of government.