On the 7th of December, History and Classics and Ancient History at the University of Sydney re-launched our long-running high school outreach efforts with the 2022/23 History Extension Mentoring program. Pre-covid, the mentoring program was one of several initiatives collaboratively devised by students, high school teachers, and Faculty here in Sydney. This year, we re-introduced the History Extension mentoring program with a more ambitious scope.
The program, piloted by Chifley College Senior Campus and Cecil Hills High School in previous years, involves current University students acting as mentors to high school students who are working on their major projects in the challenging History Extension HSC course. The student volunteers undergo training and then meet with their mentees over the course of five visits between December and July, supervised by a team of academics and their teachers.
For 2022-2023, we again invited Chifley College and Cecil Hills to participate. But we also expanded the program to two new schools, Birrong Girls High and Canley Vale from western Sydney. Further, we invited our first-ever regional school, Corowa High, whose campus lies 60km west of Albury-Wodonga on the NSW/Victorian border. We were delighted at the enthusiasm of teachers and principals alike to participate in the program, and especially pleased to hear that this is the first year the Birrong Girls High offered History Extension.
On the day, we had Corowa and Canley Vale join us via Zoom and Birrong, Chifley, and Cecil Hills visited on campus. In total, we welcomed forty HSC History Extension students alongside twenty student mentors from the University of Sydney, including undergraduates, post-graduates, and even one alumni!
The day started with an introduction from Professor Mike McDonnell, who welcomed our Zoom mentors and mentees, our in-person student and mentor groups, and additional teacher volunteers Melanie Stephens and Emma Dixon.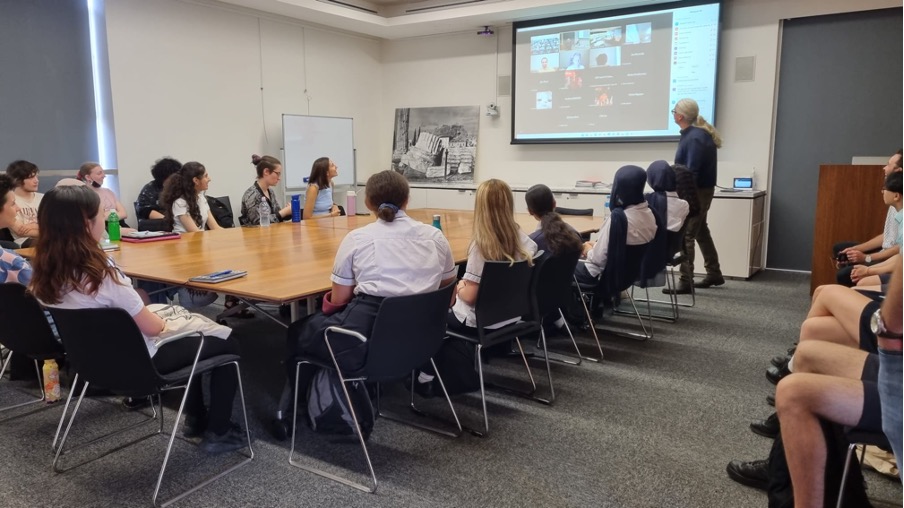 Mike addressing our hybrid attendees in the CCNESA Conference Room.
Following a moving introduction from Mike on the program's history and the importance of the Social Inclusion Program, Dr Niro Kandasamy and Dr James Findlay treated the groups to a presentation on the importance of historiography and how questions of historical debate and methodology factor into their research.
The presentation aimed to help the students continue thinking about their projects and the types of questions a historian asks about their secondary sources. The critical aspect of a history extension project is not so much about understanding the past but how historians' writing is a product of their time and place. We received fantastic feedback on these presentations and are looking ahead to recording these in a structured, digital format for the students to revisit and hopefully for the use of wider cohorts.
After these excellent presentations, it was time for the real work to begin! Our in-person mentees got to meet their mentors, break the ice a little bit, and head out on a mentor-led tour of the campus after some morning tea. We received feedback from the high school teachers, before and after the day, that the campus tour can be a really formative experience for their students. It can be easy to forget your first time seeing the Quad, graffiti alley, or any of the fantastic architecture across the campus when you're a student walking among it most weeks of the year.
During the campus tours, our Zoom groups continued their ice-breaking and discussions of history projects. Despite the limitations of zoom, we've had excellent feedback from Corowa and Canley Vale teachers and students. Our teachers and students were particularly pleased and impressed with the friendliness and engagement of the mentors. We are currently in discussions with both schools (yes, even Corowa!) for their visits to campus in February and March next year once the term is back in session.
On campus, we finished our day with a mountainous feed of pizza and pide from the folks at UniBros, who came in clutch on the day. After lunch, our in-person groups continued their lively discussions about their history extension projects. In addition, Niro, James and Mike mingled with the mentoring groups and provided extra support and guidance to some of the students whose projects sat close to our historian's interests.
Though it was an exhausting launch day for all, it was also a rewarding one. Preparations are now underway for our next sessions, which will take place here on campus in February. We are also super excited about the opportunity to visit our extension groups at their schools.
We have several important people to thank for the day's success. The first of these goes to our teacher and post-graduate volunteers Emma and Melanie, who played a crucial role in watching over Zoom calls to ensure nothing went wrong, helped bring the food, and run some great discussions with the History Extension teachers. More thanks go to all those in the Faculty who helped book, unbook, and reboot rooms to host such large groups of in-person and digital teacher, mentors, mentees, and academics! Finally, we want to thank Mike McDonnell, Niro Kandasamy and James Findlay for their hard work and support in getting this year's iteration of the program off to a flying start.
But most importantly, we need to thank the mentors, extension teachers and mentees. For our wonderful mentors, we want to acknowledge their incredible passion for history and for giving up their time to help provide a space and platform for those exceptional young people willing to take the risk and commit to participate in the HSC History Extension course. For our teachers and mentees, thank you for taking a chance on History Extension and for allowing us to support you in that journey.
We are already looking to build on the success of the launch day in the new year and look forward to seeing our mentors at work with the students once again. Happy holidays and happy new year to all involved!