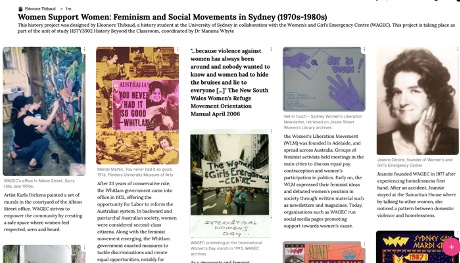 During these past few months of uncertainty, WAGEC and I have collaborated to create an exhibition reflecting on the organisation's roots in second-wave feminism. The establishment of the centre is rooted in the Women's Liberation Movement, brought by our American sisters to Australia. Sydney's inner-city quickly became a hub of activism, where students, Indigenous communities, and women would gather to share their experiences and hopes for the future.
Women Support Women: Feminism and Social Movements in Sydney (1970s-1980s) is a two-fold project. The first part is a collection of photographs, posters, brochures, and archives from WAGEC and the city of Sydney, shedding light on the grassroots historical background leading to the creation of the centre. The second part of the project is a historical recollection of the Women's Liberation Movement, the NSW Women's Refuge Movement, the impact of the Whitlam administration, and the suburbs of activism such as Glebe and Redfern.
Feminist since my childhood, my grandmother has always been a source of inspiration to pursue my interest in feminism throughout my university degree. Our discussions around the feminist movement in Paris have always fascinated me. As a young gynaecologist, Elizabeth Sot protested for birth control and helped women with illegal abortions, before the Veil laws in 1975. Despite her religious faith, my grandmother believed that women were entitled to control their bodies. Along with my research for this project, she has stayed in my heart.
My conversation with WAGEC started in late August. The project was decided as a historical steppingstone for WAGEC's new offices. In an earlier discussion, WAGEC expressed the desire to have a visual project showing its history amid the period of activism in Sydney. My first thought was to create history panels as we can find in parks, or at the front of heritage buildings. However, after discussing with my supervisors, I realised that history panels would not be appropriate for the workplace environment.
Inspired by the exhibition Know My Name: Australian Women Artists: 1900 to Now, the visual project Women Support Women was born. The exhibition will be displayed at the entrance of the Metropolitan Local Aboriginal Land building, where WAGEC recently moved to. Women Support Women can be understood as an illustrated timeline, retracing two decades of social change and women's activism in Sydney. Further, the historical analysis places WAGEC in a wider context, showing how its creation brings many histories and movements together. WAGEC appears to be at a crossover between Radical Sydney and the values upheld by Women's Liberation. The project aims to emphasise how the organisation, despite its growth, remains grassroots and feminist in essence. WAGEC emerged in 1977, a few years after the establishment of the first women's refuge, Elsie's Refuge. A lot has changed since then: government supports and provides funding for accommodations; the conversation is opening on domestic violence and, feminists continue the struggle towards equality. Yet, a lot remains to be done. Nonetheless, Women Support Women is a tribute to Jeanne Devine's work and the historical background that brought WAGEC together, making it the incredible organisation it is today.
You can find out more about supporting WAGEC on their website.
WAGEC also holds a volunteering program to support women and children, you can find out more here.