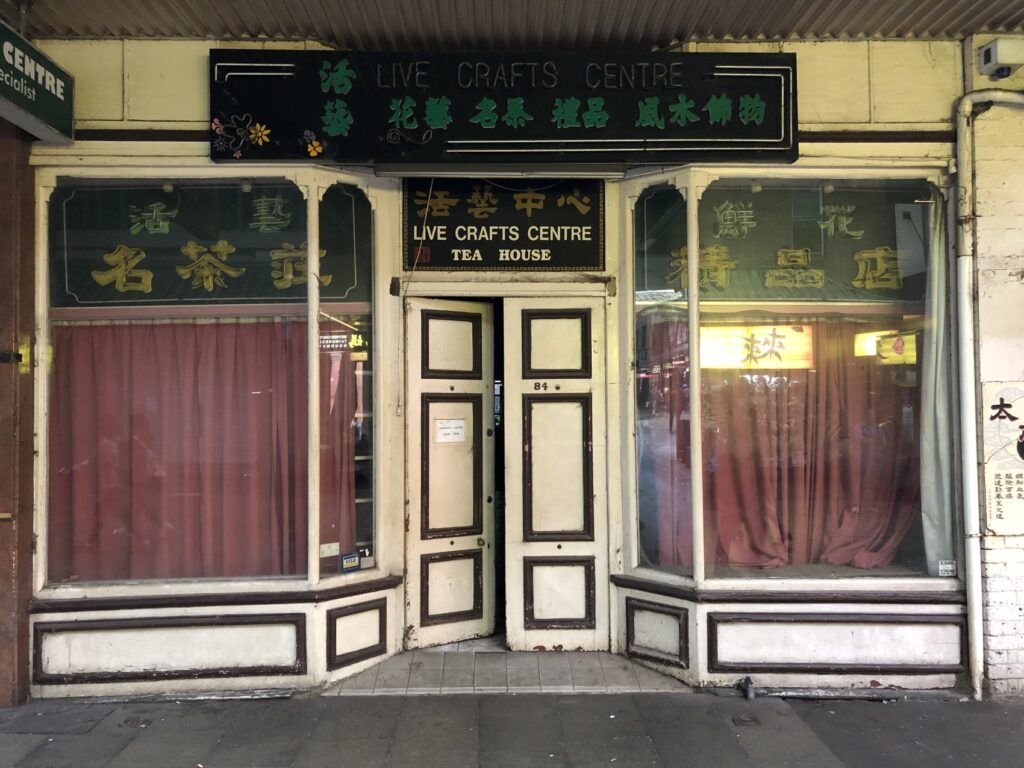 If you look at this photo, you might think this is just an old Chinese centre.
 You might not even notice that when you walk past it.
But this small building has carried the history of the Chinese community and represented the connection of the Chinese community and Dixon Street, which is the Chinatown we know nowadays.
Why this is a meaningful building?
The 82-84 Dixon Street building is believed to be the first Chinese building and business in Dixon Street. Also, this is one of the earliest land acquisitions by the Chinese.
82-84 Dixon Street is the site of the critical firm Kwong War Chong. The Kwong War Chong trading company represents the Chinese community economic activities, which involve importing and exporting. Moreover, Kwong War Chong helped many Chinese with their daily life and work in Australia. Their business included being agents of Chinese residents in Sydney and rural areas, sent money to relatives in China, assisted with paperwork and tax payments, provided accommodation and even repatriated the remains of Chinese who died in Australia.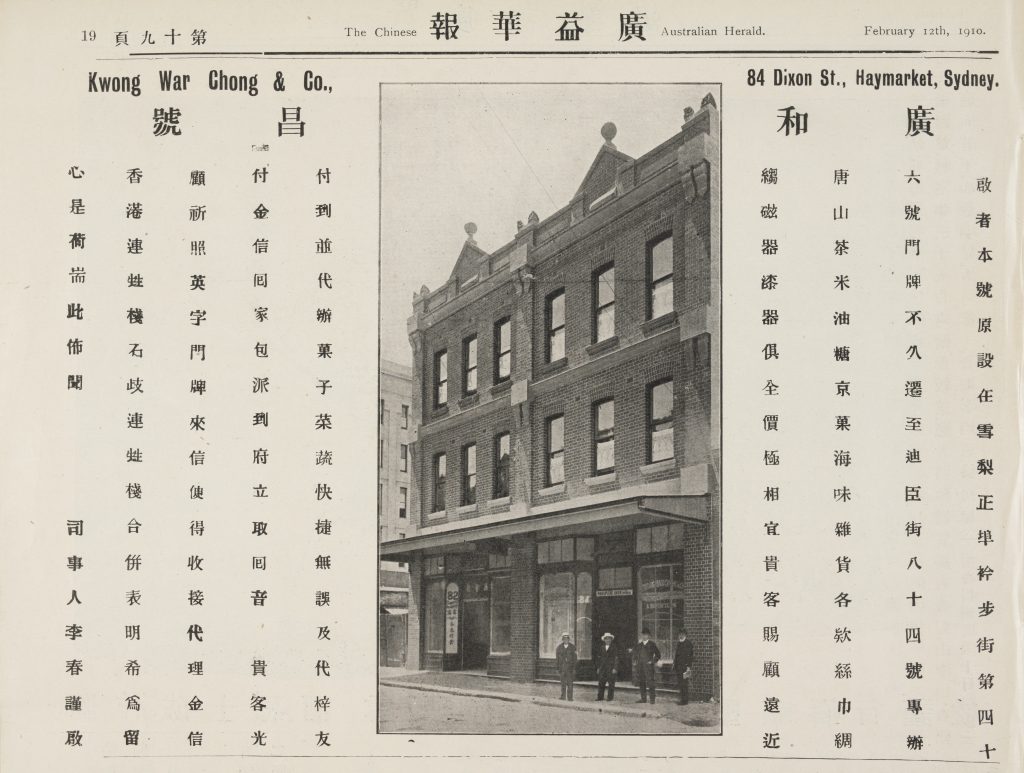 The business in Kwong War Chong allowed the Chinese people to feel intimacy and connection with their country even they were far from their home.
Unfortunately, this meaningful building is going to be developed by another company. As to preserve the shop, the Chinese Australian Historical Society obtained into state heritage listing. Now they will negotiate with the development company about the significance of history and culture in this building and hope to transform the ground floor and the two beds into a museum of Chinese Australian history.
The Chinese Australian Historical Society is the organisation that I am working within this unit.
About the Chinese Australian Historical Society

The Chinese Australian Historical Society was founded in 2002 by Professor Henry Chan (University of Newcastle, NSW). The Institute has been actively committed to advancing the study of Chinese history in Australia through workshops, seminars and conferences. Research areas include Chinese Australian family history; The home of early Chinese Australians in Guangdong; A family organisation in Sydney; Chinese shops in rural New South Wales; Trans-pacific China; History of Australian Chinese Women's Association; Archives and how to use them. These activities have helped increase public awareness and understanding of the contribution of the Chinese people to Australia.
I chose this organisation because I am interested in Chinese Australian history. I want to know the history of the Chinese, why they decided to arrive in Australia, and what they met after they arrived. In addition, I feel some connection between the organisation and me because of my Chinese cultural background.
What am I doing now?
My primary work in the project will be researching the Chinese newspaper about Phillip Lee Chun, the dominating figure of the Kwong War Chong and the articles or advertisements of the business in Kwong War Chong. The research allowed the Chinese Australian Historical Society to have more evidence to negotiate with the developer about preserving the building.