I chose the Ku-Ring-Gai Historical Society (KHS) as the organisation I wanted to engage with because of my desire to know more about my local area and to see how history is practised as part of a community. Ku-Ring-Gai is the name of a collection of suburbs on the North Shore and it is where I have lived for the last 17 years. The KHS has been operating since 1963 and has had over 600 members and is entirely comprised of volunteers. They have monthly meetings with two focuses, the first on general history where they will invite a speaker to give a presentation about their work as historians and another which focuses on producing family history. They also have an office located next to a local library in Gordon where there are collections of books, archives, computers connected to online resources. Volunteers meet there to work on various types of local history throughout the week from 10am-2pm on Mondays, Tuesdays, Fridays and Saturdays. They also create and publish an annual journal called "The Historian" with articles that cover a range of topics and places throughout a specific suburb, doing a different suburb each year so that all the suburbs within the area of Ku-Ring-Gai are featured at some point.
To become familiar with the KHS I first attended one of their general meetings on a Saturday where I heard about current news within the society, heard from one of their guest speakers and became a member. Before I attended the meeting I had a look at the name of the guest speaker and was delighted to realize it was my friend's mum, a historical novelist called Carol Baxter, giving a presentation on an adventurous Australian lady she had just published a book on. I introduced myself to some of the members and arranged to spend some time at their office on Tuesday where I met with the Vice President of the society, Lorna Watt.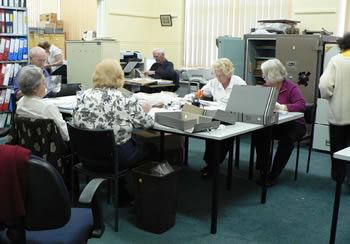 On Tuesday Lorna introduced me to some of the people that do work there on Tuesdays specifically for the purpose of investigating property history in the local area. These projects arise from either a personal interest of the volunteers in the society and also from non-members inquiring about information and history of where they live. Lorna familiarised me with the way they work and how to access the resources they use and we discussed a range of things that I could do to assist the KHS.
Ideas included assisting with the mailing out of the current publication of their journal, creating a pamphlet to distribute to encourage membership in the society and participating in the research that the volunteers are currently working on. In terms of my main project it looks like I may be able to produce a few local histories to be included in the next publication of their journal "The Historian" which will feature the suburb of Roseville. In particular researching and writing about Roseville Bridge and it's surrounding area which used to have a swimming centre as well as Roseville Cinemas and a street named Babbage after a man named Benjamin Babbage who was a significant figure in Nineteenth Century Australian history. I hope to develop these ideas within the next few weeks after becoming more involved in the Society and more familiar with the resources I now have access to.