Each year, Chifley College acknowledges its outstanding Human Society and Its Environment (HSIE) students in a prize ceremony. On Friday, 4 November, prizes were awarded to the best-performing Year 11 students in subjects such as Modern and Ancient History, Society and Culture, Aboriginal Studies, and Business Studies.
A select number of Modern and Ancient History students were also recognised for essays completed for their History Investigation Projects. These essays were judged by academics from the Department of History and the Department of Classics and Ancient History.
Jackson Clarke and Leilani Fakatava were joint winners of the Ancient History essay prize, and Kelsi Ryan placed third. Jackson, Leilani and Kelsi had tackled the topic of Roman Emperor Commodus, and the judges were 'very impressed by the standard of all three papers.' Each student offered a careful reading of ancient sources and engaged with the complexities of the narrative tradition about Commodus.
For Modern History, Leilani Fakatava and Shweeta Naidu were announced joint winners, with Jackson Clarke coming in third place. The judges found that Leilani's work on indigeneity expressed 'a range of sophisticated ideas about the multiple effects of dispossession – encompassing pride, pain, and resilience – and the complexities of racial identification.' Shweeta's essay on the Tiananmen Square massacre demonstrated 'a great facility for historical storytelling, with a narrative that is clear, informative, and wide-ranging.'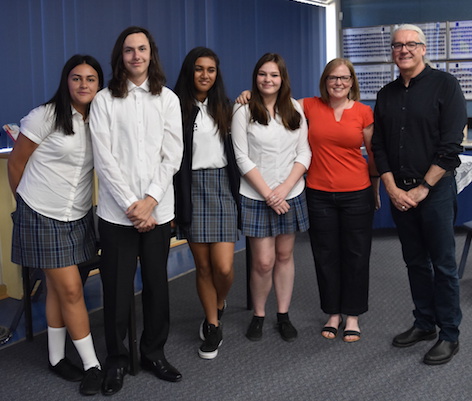 Prize winners Leilani, Jackson, Shweeta, and Kelsi with Dr Frances Clarke and Associate Professor Michael McDonnell
It was a wonderful occasion to celebrate the students' achievements in the company of their parents, teachers, and peers – especially now that they have commenced their HSC studies.
Awards for the best HSC History Extension and Society and Culture major works were also announced on the day, with Juliana Campbell taking both titles. Juliana participated in the 2016 History Extension mentoring program.
We are excited to work with Chifley students Amber Leigh-Sanders, Jackson Clarke, Kelsi Ryan, Leilani Fakatava, and Shweeta Naidu as part of the 2017 History Extension mentoring program. Leilani is also participating in the University's Year 12 Bunga Barrabugu Summer Program in the arts and social sciences stream, along with IT & Design student Justin Deville.
This year's Extension mentors are USYD graduates Amelia Williams, Luke Cantrill, and Mirela Kadric, and they will work alongside Chifley history teacher Terri Katsikaros to guide the students' research and writing skills over the next six months.