What do the Roman Colosseum, the Emperor Commodus, Roman aquatic displays, the Atlantic slave trade, and Lee Harvey Oswald have in common? They were all topics of prize-winning research by Chifley College Senior Campus students for their Ancient and Modern History Year 11 Historical Investigations.
The essay competition is held in conjunction with the Departments of History and Classics and Ancient History at Sydney University, and judged by academics from both the modern and ancient disciplines.
Sydney University and Chifley College Senior Campus have been working together for the past two years as part of an equity program in order to encourage students to achieve academic excellence and to consider University as an option.
In 2014, together we instituted a new Year 11 Essay Prize, and this year the Department of History donated book voucher prizes of over $300 for the winners and runners-up – prizes that were matched by the school. HSIE teachers at Chifley College organised an amazing prize ceremony and invited aspiring Year 11 students, current Year 12 students, and the parents of the students competing for prizes.
Charles Tan was named the winner of the 2015 Sydney University Ancient History Essay Competition, one of the school's top prizes for a Year Eleven History Student.
The prolific reader and writer about Ancient History issues was praised for writing an essay that "was well-written and well-presented, and does a great job of complicating our more popular ideas of history by looking at the ancient evidence and the history of conflicts between Christianity and Paganism in the Roman world".
He said that he got the idea for his historical investigation from a film study of Agora, and wanted to explore the factors that contributed to the conflict between the Roman Empire and the developing Christian faith and the ways that the growing political influence of Christian bishops in Alexandria turned the Christian Church from a religious body, to a major political power. The judges thought the examples chosen to do this showed Charles was "thinking like an historian" and was "well-researched and argued, the essay showed good attention to the historiographical debate and had a really strong conclusion."


Prize-winner Charles Tan
Juliana Campbell, the winner of the 2015 Sydney University Modern History Essay Competition, explored development of the transatlantic slave trade up until 1750.
According to the Sydney University judges, her essay "was impressively coherent, comprehensive, and well-written. Campbell's explanation of the shift in the status of Africans in colonial America due to changing demands for labour demonstrated a sophisticated historical analysis. It demonstrates both sound knowledge of the content, and a sophisticated University-level approach to the topic."


Prize-winner Juliana Campbell
Other notable essays included Charles Tan's exploration of the assassination of JFK which was awarded 2nd place in the Modern History competition. In the Ancient History competition Varonica Paulo's investigation into interpretations of Commodus and Precious Ibekaku's study of the Colosseum were both awarded 2nd Place. Juliana Campbell was awarded 3rd. The judges agreed that it was hard to separate the essays and that they all showed the hallmarks of great historians in the making…
On Friday, October 23, I travelled to Mount Druitt with a new group of volunteer history students for the prize ceremony. We learned about the great work students were doing in their other HSIE subjects, and got a chance to talk to students about University life, and also to parents and relatives about University options for their children. After the formalities, we also got a chance to talk informally with the current Year 12 students.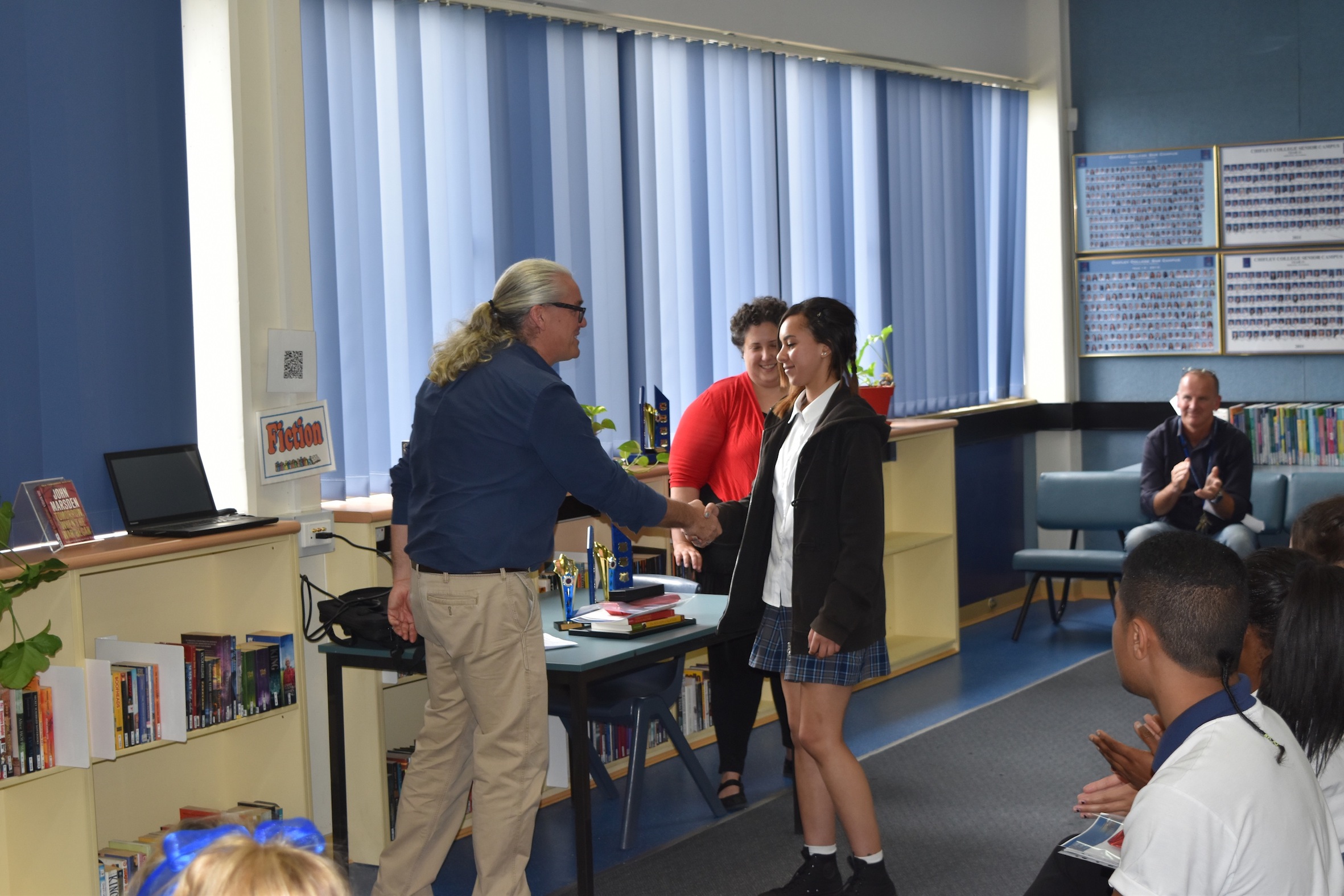 Michael McDonnell congratulates Juliana Campbell with Dianne Harper looking on.
Precious Ibekaku, who received second place in the competition, spent some time talking to current students at Sydney University, chatting about school and university life. She believes that the chance to work alongside university students, and have them support her in her studies, provides an opportunity "to get a feel for what University will be like. It's really useful, it makes me think about what I will do after my HSC, and helpful in setting goals for academic success. Most of all though, because of these conversations, I know I will be welcomed when I come to University and this makes the whole process seem less scary". The judges said that her essay was "written with flair, with a good critical evaluation of a range of sources, and makes a convincing argument that the purpose of Roman aquatic displays was not just entertainment but political."


Precious Ibekaku with her father, Ray
As well as the essay competition, the partnership between Chifley College and Sydney University includes a mentoring program with History Extension students as well as regular visits of senior students to the university campus. Starting in December last year, for example, University of Sydney students Natalie Leung, Rachael Simons, Thomas Boele, and Elizabeth Miller all volunteered to mentor History extension students, and worked closely with Year 12 students Ema Pikuana, Brieanna Watson, and Shaun Mudliar over a series of visits between the school and Uni. Natalie and Rachael are pictured below with Ema, Brieanna and Shaun in Manly, where we enjoyed an end of program day out.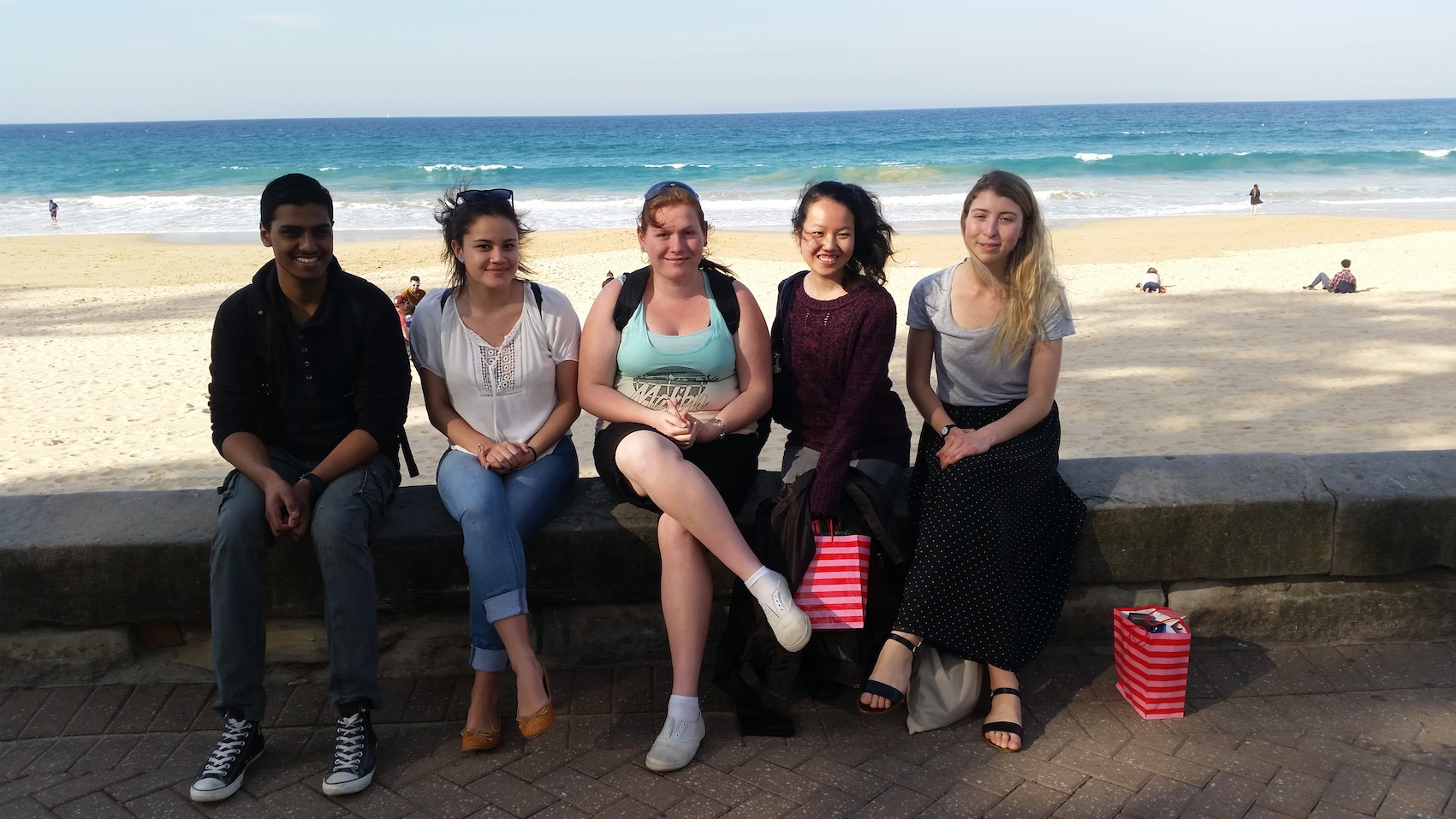 Chifley College Students Shaun, Ema, and Brieanna, with Sydney Students Natalie and Rachael, at Manly
In 2014, three Chifley College Senior Campus students received E12 scholarships for undergraduate degrees at USYD, and a number of 2015 students have been awarded conditional scholarship offers, dependent on their HSC results, including both Brieanna and Ema – successful graduates of the Extension history mentoring program. We are looking forward to having them both here to study history next year and wish them well on their last exams!
This year, Thomas Walker, Natalie Leung, and Shayma Taweel will work with History Extension students Juliana Campbell, Charles Tan, and Marieka Hooymans on their projects. We are looking forward to hosting them here at the University on Friday December 4 to refine topics and do some library research.
Special thanks must also go to the wonderful teachers at Chifley College Senior Campus for their efforts in organising these programs, the prize ceremony and their warm welcome to us, especially Dianne Harper, Robert Pecovnik, and Terri Katsikaros. We are inspired by the teachers and students every time we visit. Many thanks for the great day out at Chifley College. And many congratulations to all the prize-winners and essay writers – an impressive and talented cohort!