In The Land Is Our History, Miranda Johnson shows how the forces of globalisation – much maligned in the current political climate – allowed previously marginalised indigenous peoples to form transnational networks of solidarity with which they asserted strong claims against national governments. This was the beginning of a powerful new 'politics from below'. For the first time, minority indigenous groups in Australia, Canada and New Zealand successfully engaged with the legal systems of these states to insist on their distinct identities and, importantly, land rights. Rejecting policies of assimilation, indigenous activists radically challenged assumptions that the nation-state was one single and unified entity. Beginning in the 1960s, indigenous peoples established a 'fragile truce' with settler-states that would last for the next three decades.  Crucially, their claims carried extra weight as these nations attempted to cut ties with their British pasts, redraw their foreign policies in light of decolonisation and forge new cosmopolitan national identities.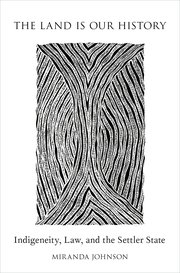 RC: The book places indigenous legal claims in this period in a global perspective, and shows how closely their success or failure was tied to global politics and anti-colonial discourses.  In the increasingly interconnected world of the 20th and 21st centuries, is it possible to separate nations from global or transnational contexts? What implications does this have for writing indigenous histories of this period?
MJ: Nationally-defined fields are still the norm in history departments and that is still how we frame many of our undergraduate classes. Of course, in the last two decades or so, transnational and global approaches to historical inquiry have been in the ascendant, so that those who work exclusively within a national framework may feel like they need to defend why they do so, which is interesting. I think few historians would write now without a sense of how the global impacts the local. Even if you frame a project within the context of a single nation-state, most historians are alert to how globalization––variously defined––impacts their study.
Indigenous history as a field plays a very interesting role in all of this. The fields of Aboriginal history and Māori history, for instance, emerged in part as a critique of settler national history. So historians involved in the construction of these fields such as Henry Reynolds here in Australia framed their projects in terms of the nation, but as a critique of the costs borne by Indigenous peoples in the making of that nation. They were critical nationalists. The effectiveness of the field of Aboriginal history in leveling this critique can be seen for instance in the infamous History Wars of the late 1990s and then in the development of another approach, that of settler colonial studies.
In the last few years, a new kind of critique has emerged, influenced by the work of historians arguing for transnational, trans-imperial, trans-regional approaches, which is that the frameworks of the nation-state really delimits, even conceals, Indigenous peoples' agency. In response, some scholars are arguing for a focus on the mobility of Indigenous peoples both within nation-states and across them. This critique arises from different political circumstances, as a response to the effects of the legal claiming that I talk about in my book. As we well know in Australia, "native title" which, it was hoped in the early 1990s, would revolutionize Aboriginal peoples' place and status has in fact led to new forms of inequality and constraint. In representational terms, there's a lot of concern that the process of claiming native title has actually further intensified the operation of an "oppressive authenticity," as Jeff Sissons calls it, in which Indigenous peoples are fixed in time and space. So, the argument for tracing Indigenous peoples' mobility is in part I think a response to this distinctive legal process and political moment in settler states such as Australia, as well as broader trends in the historical discipline. As you can see, I am interested in the transnational, the global and the national. I think all these frameworks are important in thinking about the twentieth-century histories of Indigenous peoples.
RC: Activists in these decades forced courts to accept indigenous testimony and to incorporate indigenous practices and oral traditions into western legal systems. Does indigenous engagement with the settler-state legitimise it? Is it possible to resist the state without engaging with it? 
Engagement with the state, or refusal of the state's power, are two poles of Indigenous politics. These might be more significant than conventional distinctions between "Left" or "Right" politics that are used to define majoritarian politics in liberal settler democracies. Yes, to be a claimant in a settler court means that to some extent you are legitimizing state sovereignty, the state's power to offer limited justice, to redistribute property, to mediate disputes. At the same time, I think for a lot of Indigenous claimants it's certainly the case that while one might recognize the authority and the power of the state to make decisions about one's future that this doesn't mean you think that the state is morally legitimate. So a large part of what was at stake in the cases I talk about in my book was demonstrating this gap between law and justice, showing up the immorality of prior legal rulings and policy-making, to force a change. Of course, some Indigenous people would say that to engage at any level with state processes is to cede a degree of sovereignty and so they refuse to do so.
RC: At the end of the book you suggest that the 'fragile truce' struck between indigenous polities and settler states has come undone in the face of neoliberal reforms that limit the commitment of governments to equality and social justice. Is there an implicit narrative of progress in many activist histories? What are the implications of this?
The Indigenous rights claims that I talk about in my book came to national attention in a period of heightened awareness of racial discrimination, of anti-colonialism, civil rights protests and so on. Aboriginal rights became a progressive cause in this context––the 1967 referendum was, for the majority of the population in Australia, an issue of equality and social justice. But Indigenous rights struggles were about more than equality; they were claims to the state for recognition of the distinct sovereignty of Indigenous peoples, often based in land rights. So they always troubled a progressive consciousness for it was never going to be enough to simply establish rights to equality; Indigenous peoples wanted something more than that. I think this claim is not very legible to settlers and yet at some level it registers and troubles them.
This trouble came more out into the open in the 1990s, post-Mabo, in Australia, and as claims to the Waitangi Tribunal in New Zealand increased in number and extent in the same period. Many white settlers began to feel that their rights to land, and their sense of identity and belonging, was under threat. At the same time, the old social contract was being pulled apart, as you say, through radical neoliberal reforms. Suddenly, I think it seemed to a lot of white settlers that Indigenous peoples were getting things that were being taken away from them, whites. So this particular and complex set of changing political conditions were what I was trying to allude to in saying that the "fragile truce" was undone during the late 1990s/early 2000s. And I think this breakdown of the brief consensus around the importance of recognizing Indigenous rights was really disheartening for many Indigenous activists and leaders, even if they also expected it. In the sense that in order to fight for change, you need to believe that change is possible, then certainly activist consciousness is progressive (or even radical in some instances); but I think for many Indigenous activists there is a critical awareness of the specific constraints and limits of how far one can get in a settler majority democracy.
RC: Since the 1990s, the politics surrounding indigenous history in Australia have been intense and divisive. What are the challenges of writing indigenous histories in this climate? Does it affect the kinds of histories that are told? What attitudes do students bring to the study of indigenous history?
I see a lot of students come into my classroom who think that Indigenous issues are important but they don't know why. As I've been briefly alluding to, the issues are incredibly complex and we don't have a "go to" shared language for talking about these politics. So I feel like I need to teach a new language to the overwhelmingly non-Indigenous students I have, one that will take them beyond the guilt or shame or denial that still characterizes public debate about Indigenous issues in this country. This is one of the major challenges for writing or teaching Indigenous history here in Australia, establishing a useful, critical language for thinking and talking about the distinctiveness of Indigenous-settler state politics. Studying Indigenous history is hard, it is challenging intellectually, ethically, politically.
RC: The (at times) thorny question of agency is crucial to histories from below. You describe The Land is Our History as 'a rare story about the disempowered changing the status quo', yet you never diminish the ability of powerful state institutions to affect indigenous lives.  Can an overemphasis on agency run the risk of obscuring the determining role these powerful forces can play?
Great question! In fact, this is the question I was wrestling with in writing this book; how far can I take the story of agency? Is structural oppression of settler colonialism really the true story? As you point out, I try to have it both ways because this is the reality that I perceive and that I have drawn out of the archives I used for this project. The story of a struggle, which this book is, is necessarily a dialectical one.

RC: You argue in the book that for a variety of reasons – including shifting global political paradigms – there was a reversal of the 'relations of power' between indigenous peoples and settler-states in the 1960s and 70s.  As the modern neoliberal era is threatened by a new politics that promises a reclamation of national sovereignty, do you see opportunities for the creation of a new truce between indigenous peoples and states? What do relations of power between these two groups look like in 2017?
It really depends which Indigenous people you're talking about and where. I think one of the things that is really different about 2017 from, say, 1967, is that there is now a recognition on the part of the state of a plurality of Indigenous representatives, political communities, voices (even if this is not necessarily well-represented in mainstream media). So there are multiple forms of relation, opportunities for compromise, negotiation etc. There is also a marked difference between and among Indigenous nations in terms of socio-economic wellbeing and so on. It's hard to tell a single story about advantage or disadvantage because the reality is so complex. And yet, you have a fascinating and important story of unification in the making of the Uluru Statement recently. How that came about, and what it's effects politically will be, is yet to be told.
RC: What do you know now that you wish you knew before you started working on the book?
 
That the hard part of bringing a major project to completion is the psychological game, the kind of faith that you have to maintain in order to get there but which, after many years, is often wavering because you think that what you're saying is so obvious.

The Land Is Our History is published by Oxford University Press. Order it here